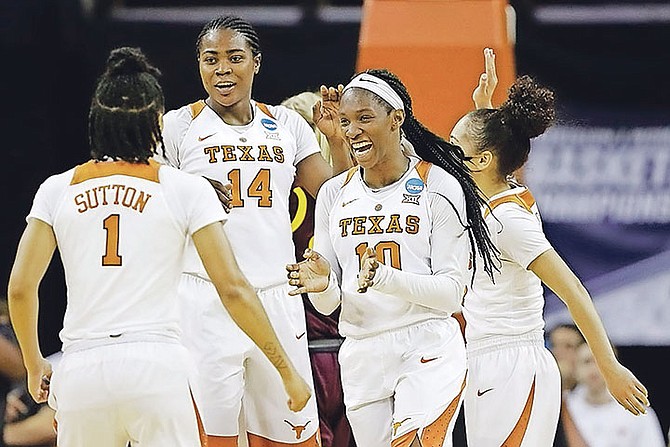 By RENALDO DORSETT
Tribune Sports Reporter
rdorsett@tribunemedia.net
Texas Longhorns guard Lashann Higgs has been sidelined with an injury for much of the season, but has still made her impact on the Texas Longhorns' women's basketball programme in the classroom.
Higgs received her third selection to the Academic All-Big 12 teams. She is one of just eight student-athletes in the conference this year to have at least three selections.
First team members consist of those who have maintained a 3.20 or better GPA. To qualify, student-athletes must maintain a 3.00 GPA or higher either cumulative or the two previous semesters and must have participated in 20 per cent of their team's scheduled contests.
In November, the senior guard was diagnosed with a season-ending torn anterior cruciate ligament (ACL) in her left knee.
Through three games, Higgs was averaging 16.3 points, five rebounds and 4.3 assists per game on 56 per cent shooting from the field.
Despite her limited time on the floor this season, she became the 44th player in Texas history to reach the 1,000 point plateau when she scored 20 points in a 64-54 win over North Texas.
Higgs entered her senior season projected to be one of the top players in the Big 12 conference and was named to the 10-member Preseason All-Big 12 Team.
She came off a junior season where she claimed All-Big 12 Second Team, Big 12 All-Defensive Team, USWBA National Player of the Week and Big 12 Player of the Week.
As a junior, she started 35 games and averaged 12.8 points per game, which ranked third on the team, 3.3 rebounds per game and was third on the squad with 1.4 steals per game. She scored in double figures on 21 occasions, including four 20-plus point performances.
In her sophomore season, Higgs - a Harbour Island native - averaged eight points, three rebounds, 1.5 assists and one steal in just over 17 minutes per game. She built upon the numbers from her freshman season when she averaged 7.2 points, 2.9 rebounds and 1.4 steals per game in 13.2 minutes
Despite the setback of the first major injury of her career, Bahamian basketball star Lashann Higgs remains in perspective as she prepares for the rehab process.
"Not quite how I wanted my senior season to end but God knows best! Sometimes we may wonder why or try to understand why things happen but it's important to know that God is in control," Higgs posted to social media when the injury was first announced. "I will be back stronger and wiser than before. I'm so thankful for my teammates, family and friends and the support of you all!
"Like they say a small setback for a major comeback."
Higgs is expected to petition the NCAA to have a medical redshirt at the conclusion of the season.
The Longhorns, who were recently eliminated in the Big 12 Conference Tournament by the Iowa Cyclones, are currently awaiting "Selection Monday" to determine their seeding and first round opponent in the NCAA Tournament.