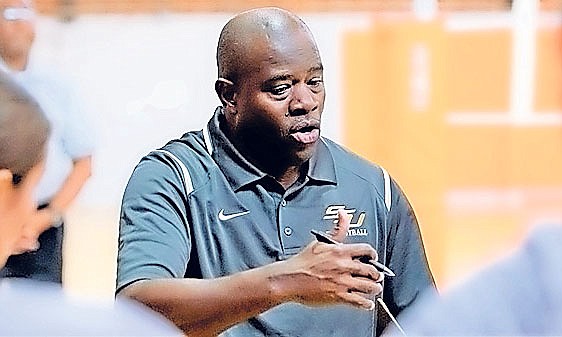 By BRENT STUBBS
Senior Sports Reporter
bstubbs@tribunemedia.net
ON April 1, coach Edric C 'Drips' Poitier is expected to take on a new role at Florida State College at Jacksonville where he coaches their Blue Waves women's volleyball and reconstructs their beach volleyball programme after a three-year coaching sting at Savannah State University.
"I'm confident coach Poitier will continue to grow on the success of FSCJ Volleyball," said FSC Athletic Director Ginny Alexander.
"He has a commitment to building programmes that are strong and connections to recruiting high calibre players that can lead our programme to the next level."
In response, Poitier thanked Alexander and the volleyball search committee for selecting him and having the confidence in him to take over and lead this programme. "I'm very excited about the opportunity to continue to build on the success that FSCJ Volleyball has had in the past and look forward to the opportunity to take them to the next level," he said. "My goal is to establish FSCJ as a national powerhouse in NJCAA volleyball."
Poitier, 56, will be moving from the NCAA Division I to the Division II level where he has garnered three Central Intercollegiate Athletic Association Coach of the Year awards, four consecutive CIAA Championship and three NCAA Division II Atlantic Regional appearances in his 14-year coaching experience.
"I love it because it's a whole lot more responsibility because the university is getting ready to build a seven-court facility and they told me the reason they want me is so that I can manage the facility and produce some national and international tournaments there," he said.
"They are building six courts and one stadium court in the facility because there is no where in the Jacksonville area that has more than two courts. They wanted someone who have some experience in beach volleyball as well to manage the facility and coach their indoor volleyball team."
While his coaching responsibility will only be limited to the indoor volleyball team, Poitier said he will be seeking persons to coach the beach volleyball team as they attempt to bring the team up to par with hard court volleyball.
"It's more responsibilities, especially for recruiting. You don't have to worry about the NCAA stipulations. It's a junior college," Poitier pointed out.
"A lot of people may look at it as a demotion from a division one to a junior college, but if you are coaching at one of the major division one schools, you don't have the opportunities for huge success.
At the junior college level, Poitier said there is much more opportunities for him to succeed.
"They are still paying me very well and I have an opportunity to do a lot of recruiting, especially with kids from the Bahamas and the Caribbean," he revealed.
"If they don't qualify for NCAA schools due to our educational system, they don't get to make it. But if they don't meet the NCAA stipulations, I can recruit them for Florida State College.
Prior to Savannah State University, Poitier was at Bluefield State College rebuilding a program that had gone 6-113 in the five seasons to a 21-7 record by 2015. Poitier also spent three seasons at Winston-Salem State University from 2010-12 and posted a 43-51 record.

He is known for rebuilding programs as he started his head coach career with St. Augustine's College (now St. Augustine University) and went 113-34 in five seasons at the helm. In his first season, he went 14-13 overall, including going 14-6 in conference play.

The next four seasons, Poitier record 20-plus win and a conference championship in each season. In year two, Poitier went 23-6, including a 19-2 mark in conference play and won the conference and was named the CIAA Coach of the Year and followed up with a 22-7 overall record, including a perfect 21-0 conference record and won the CIAA Championship for the second consecutive season and lost in the first round of the NCAA Regionals.
Poitier went 29-3 overall and 21-0 in conference play and won the CIAA Championship for the third consecutive season and advanced the second round of the NCAA Regionals and went 25-5 overall and 21-0 in league play with a conference championship and was named Coach of the Year in his final season.

He is still the only CIAA coach to ever win an NCAA Tournament First Round match. St. Augustine's went on a 77-game conference win streak over the last four-plus seasons.

"I've coached at Division II and I did division one, but if you are not at oner of the big schools, it's difficult to win because their recruiting budget is so great," he further pointed out.
"You just can't compete with them. But at the JUCO level, you can compete with anybody."
He noted that Florida State College was the only team to beat Miami Dade, who was on a 69-game winning streak before they upset them last year. They eventually lost their title to Idaho.
"That's one of the things that motivated me in going to Florida State College," Poitier declared. "I know I can do a lot with the programme there."
Before leaving the Bahamas, Poitier coached the Bahamas national women's team for nine years from 1992-99 and led the team to two gold medals and three silver medals at the Regional Caribbean Volleyball Championships and was the assistant coach from 1989-92.

Poitier also played on the Bahamas men's national team as a setter for 13 years from 1979-92 and won the bronze medal at Commonwealth Volleyball Championship in London in 1981. Poitier took a break in 2004 and left St. Augustine to work in his homeland in the Bahamas as a police officer while coaching two club teams in five years before returning to coach college in 2010.
Poitier graduated from St. Augustine's College in 2003 with a Bachelor of Science degree in criminal justice.

During his coaching tenure, Poitier has compiled a 194-160 win-loss record.