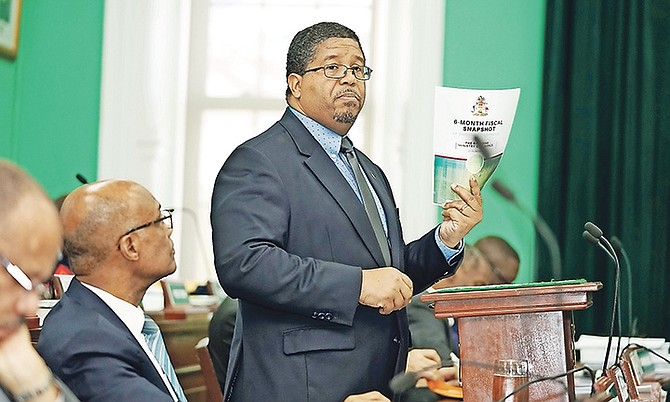 By NEIL HARTNELL
Tribune Business Editor
nhartnell@tribunemedia.net
The deputy prime minister yesterday said "the crystal ball is not exactly clear" in response to Moody's warning that the government will not hit its 2020-2021 budget surplus target.
KP Turnquest told Tribune Business that the government remained confident in its three-year fiscal consolidation plan forecasts especially since it was "making up some ground" on its 2018-2019 revenue collections.
While declining to give figures, Mr Turnquest indicated the projected $185m revenue shortfall for the current fiscal year has been narrowed during early 2019 - a period when tax collections traditionally peak, as it coincides with the winter tourism season, business licence fee payments, commercial vehicle month, the bulk of real property tax collections.
This year's January to March period also represents when the full effects of the 12 percent VAT rate kick-in, with the transition periods afforded the hotel/tourism and construction industries - two key revenue earning sectors - come to an end.
Mr Turnquest said 2019-2020, which will be the first full year of 12 percent VAT, will also witness a fully-fledged Revenue Enhancement Unit (REU) going after an estimated $80m that the Government believes is being lost to a combination of avoidance, evasion and collection inefficiencies.
Anticipating a further revenue boost in the upcoming fiscal year, Mr Turnquest said the Government was holding firm to projections - as mandated by the Fiscal Responsibility Act - that it will slash the deficit to a sum equal to 1 percent of GDP in 2019-2020 before producing a small $10m Budget surplus the following year.
While Moody's suggested it may take a year or two longer for the Government to hit these and debt-to-GDP targets, Mr Turnquest conceded it had every right to take a conservative approach towards The Bahamas given that it had been "bitten in the past" by previous administrations being "so wrong" with their forecasts versus actual performance.
"We have our medium term fiscal plan that we're continuing to work through," the deputy prime minister said in response to Moody's latest assessment. "We acknowledge that we're a little behind on revenue, but we're making up some ground and will see where we end up.
"We continue to be disciplined in our spending patterns, and the economy continues to grow, and we believe we're in a good spot and will see what happens. The crystal ball is not exactly clear."
Despite the $185m, or 7 percent, revenue shortfall against projections that was detailed in the recent mid-year budget, Mr Turnquest said a $130m, or 5 percent, cut to forecast spending would enable the Government's 2018-2019 fiscal deficit to come in $5-$10m below the predicted $237m.
Projecting that the revenue increases anticipated this fiscal year will now come through in 2019-2020, he added: "We made some estimates based on experience and what we could see we had in lost revenue.
"With the establishment of the Revenue Enhancement Unit we expect to be able to drive the compliance percentage up, which helps achieve our objectives. As far as VAT, we believe there will be some organic growth that we'll realise with full implementation, and the first quarter numbers are looking positive in that regard."
Moody's, though, warned the Government it will likely miss its target of generating a small Budget surplus by 2020-2021, and predicted it will still be running a deficit equal to 1 percent of GDP.
It suggested that the fiscal consolidation targets were overly-aggressive given The Bahamas' poor track record of meeting annual Budget projections, and warned it may take one to two years longer than planned to achieve these goals.
"Because the Government has not yet established a track record under its new fiscal rules, our baseline projections are slightly more conservative than the Government's. We expect a fiscal deficit of 2 percent of GDP in 2018-2019, and deficits slightly wider than the Government's targets in subsequent years," Moody's said in an analysis obtained by Tribune Business.
Moody's deficit analysis, while not representing a material deviation from the Government's forecasts, is nevertheless some 20 basis points higher. This, if it comes true, would add around $26.5m to the "red ink" incurred during the 2018-2019 fiscal year, taking the deficit to around $263.5m.
The credit rating agency said future deficits will also come in higher than those set out in the Minnis administration's three-year fiscal consolidation plan. While the Government is forecasting a deficit equal to 1 percent of GDP for 2019-2020, keeping it in line with the Fiscal Responsibility Act's requirements, Moody's is projecting that it will be around 1.8 percent.
As for the Government's ambition to run a GFS surplus of $10m in 2020-2021, likely the first time this would happen in modern Bahamian history, Moody's dashed those hopes by projecting it would still run a deficit close to 1 percent of GDP.
"They're taking a very conservative position, which I don't blame them for," Mr Turnquest told Tribune Business, acknowledging that Moody's had "been bitten in the past".
He added that The Bahamas now had to "rebuild the credibility we need" by consistently delivering on its budget projections and economic growth forecasts, and said: "It's dependent on results.
"That's where we are because in the past we've been so wrong, to put it inelegantly, and been wrong for so many years that the credibility in projections is not there." Mr Turnquest said an improvement in The Bahamas' sovereign credit rating was likely some two years off until it can show it delivers.