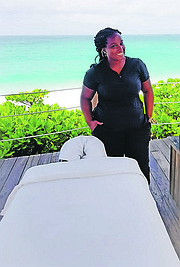 By ALESHA CADET
Tribune Features Reporter
acadet@tribunemedia.net
For the past 11 years, Nadia Beneby has dedicated her time and passion to massage therapy.
Over time she has learned the ins and outs of various techniques, the health benefits, and has even started her very own service called the Relax and Escape Mobile Spa.
In an interview with Tribune Health, the certified massage therapist and aesthetician explained how her profession can offer so much relief to people.
"Massage therapy is a part of the health industry which is considered alternative/holistic medicine that cures ailments and relaxes the body. It should only be performed by a trained specialist since it can cause harm if not performed correctly," said Nadia.
She said benefits of massage can include a reduction of stress and muscular tension, improved blood circulation, an increase in flexibility and protection against sports injuries. Massages can also serve as natural pain killers, as they relieve headaches and migraines.
With her mobile spa, Nadia said she takes her time with each client, learning the best ways to help them – whether by providing a relaxing Swedish massage that refreshes and regenerates the body, or a deep tissue massage to handle any underlying issues caused by muscular stressors.
Nadia names her father, Jeffrey Beneby – whom she watched build a successful accounting firm – as her inspiration for becoming a business owner. She said his approach and work ethic helped shape the foundation in her that she needed to start her own business venture.
"For now, I'm just working on building my client base so that I can take on more therapists like me who would enjoy the flexibility of my work. There is no 9-5 pressure. In the future, expect expansion and growth because my goals are constantly forming into reality," said Nadia.