By NEIL HARTNELL
Tribune Business Editor
nhartnell@tribunemedia.net
The costs associated with settling electronic transactions are "slowing the pace of change" in the Bahamian payments system, the Central Bank's governor said yesterday.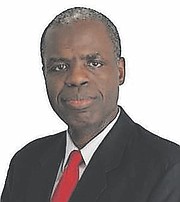 John Rolle, pictured, addressing the regulator's second annual blockchain technology seminar, said The Bahamas still has much to do in its efforts to switch away from a cash-based society despite double and triple-digit increases in card and digital payments transactions in the five years to 2017.
"At the national level, the use of electronic payments has increased," he agreed. "But, anecdotally, the costs of settlement are slowing the pace of change. To accelerate change there should be greater comfort around accepting and making digital payments, placing them within the reach of more consumers.
"When funds transfer costs inhibit the adoption of e-payments, we fail to reap the more tangible benefits of having electronic audit trails for business transactions; data to facilitate domestic tax compliance; reliable records that allow enterprises to access credit facilities; and reducing the costs associated with check reconciliation systems."
Data shows an increase in payments transactions taking place outside physical bank branches, although many of these are still likely cash-based as they take place at Automatic Teller Machines (ATMs). Cheque writing has also declined as the use of debit and credit cards to facilitate payments has risen.
"Anecdotally, wire transfer costs have also slowed the transition of some firms from the use of cheques for payroll processing," footnotes to Mr Rolle's speech said. "Also, the merchant fee for accepting credit and debit card payments can average between two percent and five percent of the transaction's value, acting as a disincentive for firms that might cling exclusively to cash receipts."
An annex to the Central Bank governor's address described the Bahamian payments system as "continually evolving", confirming that there was now a continual shift towards electronic banking and out-of-branch services.
"Both consumers and businesses are using these electronic options in increasing numbers," it said. "In 2017, 56.8 percent of commercial banking branches were located in the capital, while the remaining 43.2 percent could be found in the Out Islands. This still reflects diminished access.
"Regarding access to ATM terminals, 71.5 percent were in New Providence, 13.8 percent in Grand Bahama and the remaining 14.6 percent were in the Family Islands. Under electronic payments activity between 2013 and 2017, payment card usage rose by 138 percent and 203.2 percent respectively, with equally impressive growth in the number of merchant terminals able to process such payments. There has also been a significant increase in the use of online banking by both consumers and businesses."
Data produced by the Central Bank showed that debit card payments had increased in volume from 1.353m transactions in 2013 to 3.222m in 2017, while the trend for credit cards saw a rise from 275,855 transactions in 2013 to 836,461 by the latter year of the same period. There was also a near-seven fold increase in stored value card transactions over those five years to 105,010.
Residential electronic banking users almost tripled, too, increasing from 29,252 to 85,261 over the 2013 to 2017 period. Elsewhere, the volume of cashless instrument transactions jumped from 4.759m in 2013 to 7.067m in 2017.
Mr Rolle, meanwhile, said The Bahamas needed to push for improved awareness surrounding electronic payments, adding that its 2018 financial literacy survey showed "just above 90 percent of the respondents had knowledge of savings accounts and debit cards, but only about 80 percent of persons having a savings account.
"Only about 70 percent of these individuals made use of a debit card. Less than half of all respondents used a credit card, and only about one-third of all respondents made use of checking facilities."
The Central Bank governor added: "The payment system modernisation initiative (PSMI) provides both the incentive and means to spur more widespread adoption of electronic payments, and to enable greater access to digital financial services. Transactions cost reduction must also be measurable.
"Ultimately, this means approaching 100 percent access to digital services, full possible access to banking services of a deposit maintenance nature, and fully enabled embrace of electronic payments capabilities. Reducing the size of legitimate but unrecorded economic activity will also be necessary, and micro, small and medium- sized businesses will need to be admitted into the digital space."
Mr Rolle said two non-bank providers of electronic money services had either completed, or provisionally completed, the Central Bank's licensing process. He added: "The Central Bank will promote direct participation of credit unions and non-bank payment services providers in the payment and settlement system.
"As the two largest originators and recipients of payments, the Public Treasury and National Insurance Board (NIB) are being invited to become direct participants in the RTGS (Real Time Gross Settlement System (RTGS) and ACH (Automated Clearing House) systems."