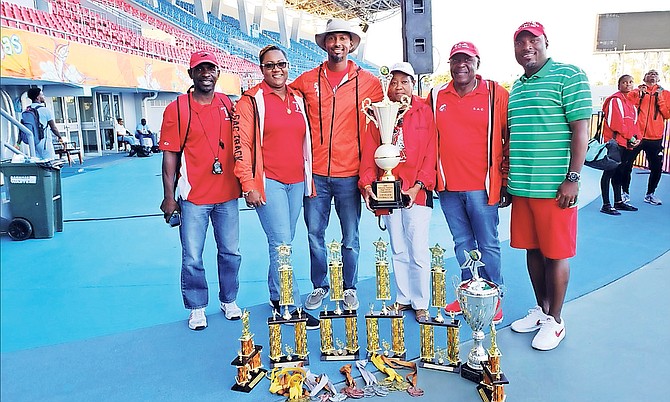 By BRENT STUBBS
Senior Sports Reporter
bstubbs@tribunemedia.net
The St Augustine's College Big Red Machine captured half of the divisional titles and a number of athletes attained the CARIFTA qualifying standards on the final day of the Ministry of Youth, Sports and Culture's National Track and Field Championships.
The three-day meet wrapped up Saturday at the Thomas A Robinson National Stadium with the Big Red Machine winning the under-17 girls' division with 161, the under-20 girls with 178, the under-15 boys with 112 and the under-17 boys with 156.
The Queen's College Comets doubled up with their victories in the under-15 girls and under-20 boys, while the LW Young Golden Eagles flew away with the under-13 girls and CH Reeves secured the under-13 boys with 69.
In the end, SAC finished with a total of 820.50 points, the most generated by any school. The Comets had the second highest with 775 and Grand Bahama's Tabernacle Baptist had the third highest with 479. "Our kids performed very well. We still had a lot of injuries that we are kind of dealing with," said SAC's coach Jason Edwards. "We rested a lot of kids for the final Carifta trials in two weeks.
"But what I like about the nationals is that it is about quality where you win a race in BAISS and someone get second or third. That don't happen in Nationals. If Anthaya Charlton was to win a race, it wouldn't be where QC get second or third. It would be another school."
Edwards said SAC produced a well oiled machine for the Nationals and that was why they were successful in winning four out of the eight divisions and took home both the overall junior and senior divisions to compile the most points.
"The kids performed well. They worked hard,. They were determined to make amends for what happened two weeks ago. SAC don't lay down and go to sleep. We pick ourselves up and get back at it."
The Bahamas Association of Athletic Associations used the meet as a qualifier for the Carifta Games, scheduled the Cayman Islands over the Easter holiday weekend and there were a number of outstanding performances.
800m Qualifiers
The under-17 boys 800m had a pair of Carifta qualifiers running under the two-lap time of 2:07.25 as St John's Omar Kelly won in 2:04.75 and Patrick Bethel High's Lovevinski Tergenus followed in 2:06.60. SAC's Richard Hardy was third in 2:12.10.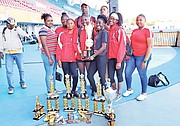 "It was good. I trained really hard for this. All my mind was on was qualifying for Carifta and everything that God has planned for me this year," said Kelly, a 15-year-old 10th grader. "It was a breeze for me. I know I can run faster."
St Anne's Jasmine Knowles clinched the under-20 girls 800m qualifying time of 2:14.47 with 2:13.20 for the win. SAC's Sasha Knowles came seconds in 2:30.23 and Sunland Baptist's Atavia Duncanson was third in 2:31.58.
"I feel very proud. This was by fourth 800m this year because I was focusing on the 400m at the beginning of the year," said Knowles, a 17-year-old 11th grader. "This is the fastest time I have ever ran, so I am very proud of it."
200m Qualifiers
Tabernacle Baptist's Collinique Farrington's winning time of 24.44 enabled her to dip under the Carifta standard of 24.47. She was trailed by St Andrew's D'Arjha Davis in 24.77. Lacarthea Cooper of Jack Hayward was third in 24.98.
"It was exciting because I made up in my mind that I was going to do it," said Farrington, a 15-year-old 11th grader. "I feel about my performance."
400m hurdles Qualifiers
SAC's Reshae Dean completed the 10 sets of hurdles around the track in 1:02.44 as she dipped under the Carifta mark of 1:03.27 in the under-17 girls 400m hurdles. St John's Lauryn Storr was second in 1:10.75 and Jordan Prince Williams' Devonda Sands did 1:11.53 for third.
"It was great. I felt I did very well and I did everything that I was supposed to do," said Dean, a 15-year-old ninth grader. "It was pretty strong for me., I enjoyed it. I am so happy because I did the qualifying performance."
CR Walker's Wendell Miller used his lanky, slender build to easily 56.19 to surpass the under-17 boys 400m hurdles qualifying time of 56.59. SAC's Shimar Bain was second in 58.02. St George's Dion Storr got third in 1:00.06.
"It was hard, but I just had to go out there and do it," said Miller, a 16-year-old 11th grader. "It was amazing. It went just as I had planned it."
High jumpers qualified
Benjamin Clarke of SAC emerged as the senior boys high jump champion, clearing 2.05m (6-8 3/4) to improve on his own meet record of 1.90m (6-2 1/4). In the end, he along with Tyler Missick of Grand Bahama (2.0m/6-6 3/4), both went over the Carifta standard of 1.97m (6-5 1/2).
"It was definitely some good competition so I want to thank God for carrying me through and giving me the strength to execute," Clarke said. "I came here with the mindset that I want jump to jump pretty high and I was able to execute so I am thankful."
For Missick, moving up to the under-20 boys division for the first time was simply clockwork.
"It was okay, but I know I can do better," said the 16-year-old tenth grader who got a silver last year in the under-17 boys division. "At the Carifta trials, I hope to do better. The competition was good. It allowed me to do very well."
So Close
Fredeline Augustin of Huntley Christie was just off the under-17 girls 800m qualifying time of 2:25.30 when she won in 2:25.52. Jodie Ritchie of Queen's College got second in 2:25.75 and Samaa Moxey of SAC was third in 2:28.69.
"It was my PR (personal best) so at the Carifta trials, I hope to run faster and make the team," said the 14-year-old Augustin, who is in grade 10. "There wasn't any competition out there for me."
The under-20 boys needed to run 21.08 to qualify in the 200m with Tabernacle Baptist's Terrance Jones falling short in 21.20 as he held of SAC's Adrian Curry in 21.53. Sunland Baptist's Kendal Culmer got third in 22.08.
"It was good. I started to drag through my first 20m and I picked up my transition on the straightaway to bring it home," Jones said. "The time wasn't what I expected, but if I can work on my transition going into my speed coming home, I know I can do it."
Curry, who already qualified in the 100m, said he went out and executed his race.
"I knew he (Jones) was there coming off the curve, but I couldn't do anything with about 60 metres left in the race," Curry said. "I just have to stay at it and work hard."
And in the under-20 girls 200m, SAC got a 1-2 punch from Jaida Knowles, who completed the half-lap race in 24.04, just off the Carifta standard of 24.02, with Megan Moss second in 24.13. Angel Pratt of Queen's College got third in 25.07.
"My race was good. I just wanted to do enough to get through the race," said Knowles, who was also short of the qualifying time in the 100m in the meet. "I just wanted to come out injury free and so I feel confident going into the trials because I have been running the times that I wanted too."
Moss said her plan was to come off the curve so that she could have a strong slingshot onto the straight away and finish strong. Earlier in the meet, she qualified in the 400m and was quite pleased with that effort.
"I felt absolutely amazing. I just wanted to finish my race," she said. "I accomplished another stepping stone towards getting another gold for the Bahamas."
Controversy too
Queen's College's Mia Mitchell got disqualified for a false start. But when they decided to re-run the race, it was called back and Kingsway Academy's Alyson Taylor was left in the blocks and she was charged with a false start.
After they both pleaded their cases much to the uproar by the spectators, they were reinserted into the race. Taylor went on to win in 1:04.18, off the Carifta qualifying time of 1:01.34.
Mitchell got second, but was eventually disqualified as CI Gibson's Kaylisa Saunders was awarded second in 1:07.74 and Queen's College's Lyric Brennen go third in 1:10.05.
"I know I didn't false start. I felt after all of the confusion and hearing the crowd cheering for me, I got a little more motivated to go out there and run," Taylor said.