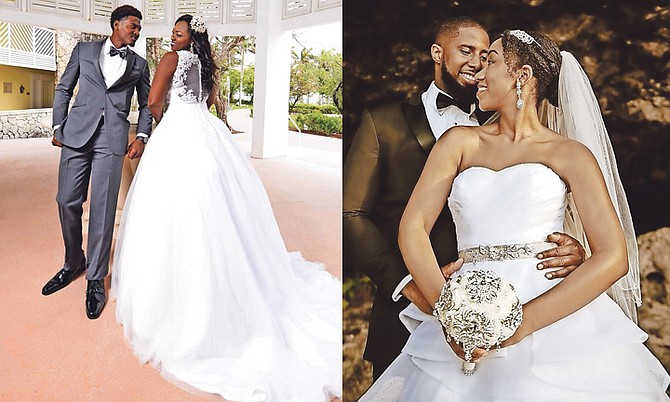 For many brides-to-be, price is the biggest factor in determining whether to rent or purchase a wedding dress. After price, it's style, sentimentality and pure emotion that dictate the decision.
While renting a bridal gown is more cost effective, as it is only worn for one day, the affordability of wedding dresses these days has made more Bahamian women choose to purchase over renting, according to Makeva Wallace, coordinator of the 31st annual Buttons Bridal Show being held this Sunday.
"Bahamian brides are trending more toward the purchase of their gowns. Brides-to-be are going online to get an idea of what's available," she said.
However, Mrs Wallace cautioned those buying their gowns sight unseen from websites.
"Some buy direct (online), which often leads to disappointments when the quality and fitting fails to meet their taste and style, then (they) find their way to Buttons for assistance," she said.
"We encourage them to bring the styles found and we will guide them to make sure their gowns meet their tastes and dreams. They must remember that not everything you see online lives up to your expectations. Your wedding gown is something you will remember for the rest of your life...and should make you feel and look good."
Whether you decided to rent or buy your dress for the big day, there are pros and cons in both cases, explained Mrs Wallace.
"Rental gowns are more cost effective and you aren't left with a gown taking up your closet space. Additionally, alterations are limited when renting a bridal gown. On the other hand, when purchasing a gown you have a wider variety to choose from and you can party as hard as you want without fear of not getting your security deposit back upon return of your gown," she said.
But of course there are also other considerations besides the price.
"What kind of wedding is planned? The styles you choose will depend on the formality and style of the wedding itself," said Mrs Wallace.
Typically, the more formal the wedding, the more formal your gown should be. Establish guidelines and a set of priorities. Also, the wedding date is critical since some fabrics and styles are seasonal and some gowns might not be comfortable for the weather at the time of the wedding.
Mrs Wallace said there will be a wide selection of gowns and formal wear on display during this Sunday's Bridal Show which kicks off at 2pm at the Grand Hyatt.
More than 50 exhibitors – some new, some returning – will showcase their products.
"Thanks to our generous vendors (we have) $30,000 in prizes that we so freely give away. Wedding demonstrations are also fun to watch because you learn wedding etiquette while being entertained by fellow brides- and grooms-to-be. Honeymoon getaways from Atlantis Resort, Sandyport Resort, Cape Eleuthera, and a grand prize trip from Beyond the Decor to the Orlando, Vegas or Europe. For the first time this year, some other persons in attendance will receive surprise gifts at the show. Plus, as clothing styles change, so will our fabulous fashion show presented by Buttons and over 30 models.," she said,
Those in attendance, she said, can expect to see modern styles as well as classic styles for weddings and other formal events.