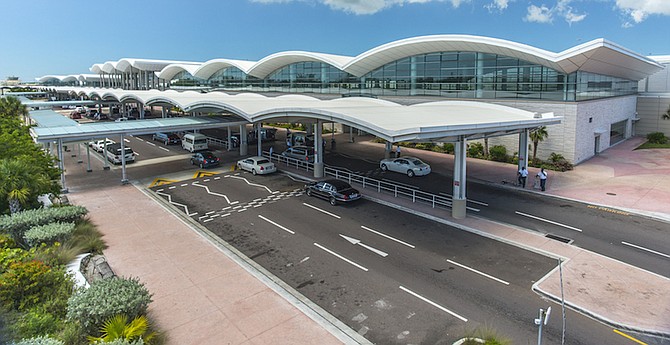 By NEIL HARTNELL
Tribune Business Editor
nhartnell@tribunemedia.net
Air arrivals to New Providence achieved their highest quarterly growth for 28 years during the final three months of 2018, expanding by 20.6 percent to complete a strong year for Bahamian tourism.
The Central Bank's latest quarterly economic review, covering the final quarter of 2018, revealed: "Total visitors to New Providence strengthened by 15.9 percent during the review quarter, a turnaround from a 2.1 percent reduction in the preceding year, as the key air component firmed by 20.6 percent - the largest percentage increase since 1990, while sea passengers advanced by 14.3 percent.
"The Grand Bahama market also showed signs of improvement, as total arrivals grew by 10.3 percent, following a 13.6 percent expansion in the previous year, with the air and sea components advancing by 12.6 percent and 9.9 percent, respectively.
"In contrast, total visitors to the Family Islands declined by 9.7 percent, vis-a-vis a 29.8 percent increase in the comparative period of 2017, as the 11.4 percent decline in the dominant sea component outstripped the 5.3 percent growth in air arrivals."
New Providence's performance will have been driven by the extra airlift associated with Baha Mar's full opening and net 2,300 room inventory increase, coupled with improved US consumer confidence and an expanding economy in the market that accounts for around 85 percent of The Bahamas' tourism customer base.
Grand Bahama's improvement, though, was aided by weak comparatives from the year before that, for the first time, did not reflect the impact of the Grand Lucayan's late 2017 closure.
"Buoyed by the increase in stopover visitors, information from the Bahamas Hotel and Tourism Association and the Ministry of Tourism for a sample of large properties in New Providence and Paradise Island showed that total room revenues strengthened by 40 percent, outstripping the 22.7 percent advance in the prior period," the Central Bank report said.
"Reflecting in part the rise in high-end room capacity, the average daily room rate (ADR) firmed by 11.4 percent to $257.59, outpacing the 5.4 percent gain in the previous year. In addition, the number of room nights sold firmed by 28.3 percent, contributing to a 4.3 percentage point rise in the average hotel occupancy rate to 56.5 percent."
It added: "During the fourth quarter total visitor arrivals grew by 6.4 percent, a slowdown from the previous year's 8.4 percent expansion. In terms of the components, the high value-added air segment increased by 17.1 percent to 0.4 million, outpacing the 14.4 percent growth in the corresponding period last year and an average 5.6 percent gain over the last five years.
"Similarly, the dominant sea passenger component - which comprised 79.1 percent of the total - rose by 3.9 percent to 1.3 million, vis-à-vis the prior year's increase of 7.1 percent and the five-year average of 0.5 percent."