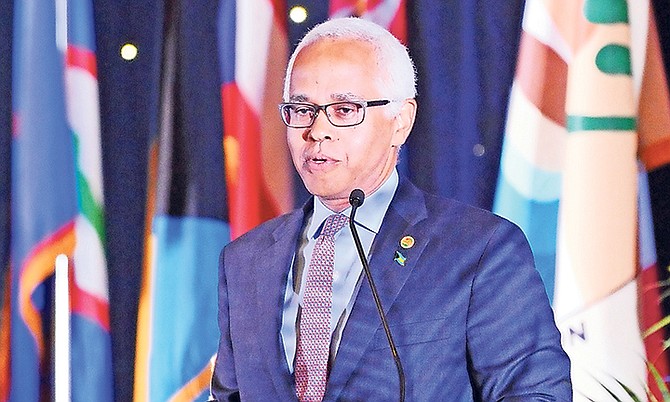 By NEIL HARTNELL
Tribune Business Editor
nhartnell@tribunemedia.net
A Cabinet minister yesterday urged The Bahamas to seize the "new optimism" and empower more local ownership of an economy that "is beginning to tick".
Dionisio D'Aguilar, minister of tourism and aviation, told Tribune Business that investors were "very bullish on The Bahamas right now" as the government seeks to pull "more irons out of the fire" to join investment projects already in motion.
Reiterating previous calls that "now is the time for Bahamians to invest", Mr D'Aguilar urged existing and budding entrepreneurs to determine how they can exploit the "multiplier effect" created by major foreign direct investment (FDI) inflows.
"We've got a lot of irons in the fire and are waiting for all of them to be finalised," he said. "The Disney deal is now done. We have the Carnival iron in the fire in Freeport, the Grand Lucayan iron in the fire, and the cruise port iron in the fire in Nassau.
"We're kind of in the negotiating phase where not much will be said until we have a deal. We're in that period now where we're fully in the process of negotiations, and just have to wait for it to be done. I'm optimistic about what will imminently be forthcoming in all these transactions, but the devil's in the details and we continue to thrash everything out with all the parties."
The Government earlier this month signed the Heads of Agreement for Disney's $250m to $400m investment in developing a new passenger destination at Eleuthera's Lighthouse Point, while the $100m Carnival cruise port in Freeport was unveiled in February.
Meanwhile, Global Ports Holding has been selected as the preferred bidder to invest $250m in upgrading Nassau's cruise port and taking over its management, while the preferred bidder to acquire Freeport's Grand Lucayan resort - thought to be the Mexican port developer, ITM, in combination with Royal Caribbean - could be announced as early as this week.
Mr D'Aguilar said bringing all three projects - Carnival, the Grand Lucayan and Nassau's cruise port - to fruition and out of the investment pipeline would add to multiple projects already underway or planned.
With Albany continuing its expansion, and The Pointe project progressing adjacent to the British Colonial Hilton in downtown Nassau, Mr D'Aguilar said the $120m GoldWynn project at Goodman's Bay; Sterling Global Financial's $250m Hurricane Hole redevelopment; and Baha Mar's proposed water park would further fuel job creation, income growth and consumer/business confidence.
"There's a new optimism that things are happening, things are getting done, projects are getting off the ground," he told Tribune Business, "and you couple that with the incredible performance of tourism, and our economy is beginning to tick.
"If you're a Bahamian thinking about whether to invest, this is the right time. There's a certain optimism, a feel good factor about the economy. If you have a couple of dollars in the bank and you are thinking about investing, the time is now because as more of these projects come on line, more people are employed and there is more money in the pocket, it starts to get the wheels of the economy moving.
"All of that is in play now. It hasn't kicked off yet, but you want to prepare to tap into the multiplier effect of what results from these projects coming on stream. I'm feeling optimistic, and when we feel optimistic people start to invest. People are very bullish on The Bahamas right now."
Mr D'Aguilar, though, conceded that it is "so important" that Bahamian-owned companies and entrepreneurs in the domestic economies benefit from the growth sparked by FDI projects.
"It's not all about creating employment. It's about empowering; empowering our people to become owners of the economy and not just employees of the economy," he told Tribune Business.
"I always say that these projects are creating a lot of entrepreneurial opportunities for Bahamians. If you are a Bahamian and overseas, and thinking of coming home and starting a business, this is the time to contemplate that. People are bullish on The Bahamas and we want Bahamians.
"If you think about Grand Bahama and all those 2m-3m cruise passengers coming there wanting things to do, there's business opportunities in ground transportation. You may want to come up with ideas to do excursions. There are continued opportunities."