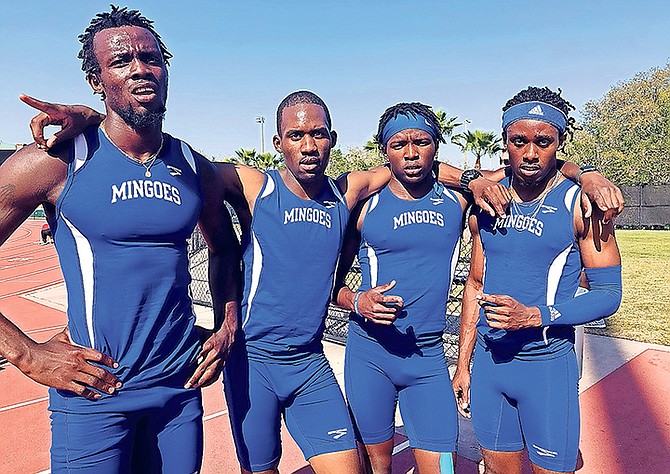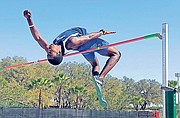 TAMPA, Florida — The University of The Bahamas Mingoes track programme won two titles at the University of South Florida Bulls Invitational over the weekend to go along with a second and third place finish.
Amber Ford won the women's 800m in a personal best of 2:14.85 - more than a second ahead of her closest competitor.
Ford was boxed in by four competitors after the first 400 metres of the race but was able to get out on the second 400 metres.
"When I saw the opportunity I pushed though the gap and brought it home," she said. "I think I could have done better if I had gone harder in the second lap but this sets me up for the rest of the season."
National heptathlon record holder Ken Mullings took the men's high jump competition after a jump-off with Dakari Hill from Webber University. The two jumpers had identical clearances with both only having knockdowns at 2.10 meters or 6 feet 10 ¾ inches. This forced a jump-off at 2.05 meters. Hill had a knock down and Mullings easily cleared it for the win.
"My rhythm was really on in the competition and I felt really good about my approach," he said. "This bodes well for me for the rest of the season that I know I can compete in the individual events."
Mullings also finished 9th in the discus competition with a best throw of 41.69 or 136 feet 9 inches.
The men's 4x400m relay team of Kendrick Thompson, Anthony Adderley, Brandon Hanna, and Donya Roberts took the second spot in the competition in a time of 3:14.36.
Bradley Cooper Jr. took third place in the shot putt competition with a best toss of 14.15m (46-5 1/4). He started off slow but all but one of his throws got progressively better through the competition. He started at 12.56m or 41feet-5 ¼ inches and finished with a best throw of 14.26m.
"I came in with a lot of nerves but going through the competition I started to feel more relaxed," he said. "I was able to stay consistent throughout the competition and that was big positive for me."
Cooper also took 7th in the discus competition with a best throw of 44.65m (146-6).
The women's 4x400m relay team of Jodie Miller, Gabrielle Shannon, Romica Josey, Amber Ford took 5th place in 4:03.51.
Donya Roberts, running next to Olympic and World Champion American Justin Gatlin (Nike), finished 5th in the 400m event in a time of 49.14 seconds. Gatlin finished 4th in 48.02 seconds. UB's Brandon Hanna took 7th in the same event in 49.39 seconds.
Anthony Adderley finished 6th in the 200m in a time of 21.54 and Destiny Pratt took 7th in the women's competition in 26.29 seconds.
The Mingoes next compete at the University of Miami Hurricane Alumni Invitational April 12-13 in Coral Gables, Florida.
MINGOES COOPER USF MARCH2019 – UB Mingoes field specialist Bradley Cooper Jr tosses the shot put at the USF Bulls Invitational March 23, 2019 in Tampa Florida. Cooper took third place in the competition with a best toss of 14.15m (46-5 1/4). (UB ATHLETICS)
MINGOES MULLINGS USF MARCH2019 - UB Mingoes multi-event specialist Ken Mullings clears 2.05m (6-8 3/4) at the USF Bulls Invitational March 23, 2019 in Tampa Florida. Mullings cleared 2.05 and had three knock-downs at 2.10m to force jump-off. He won the event in the first round of the jump-off. (UB ATHLETICS)