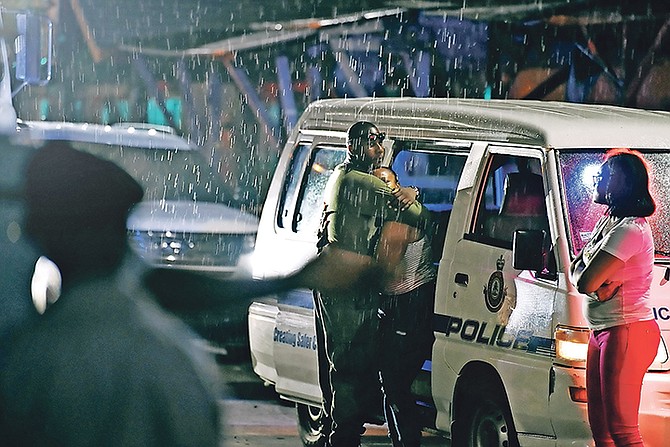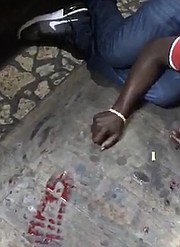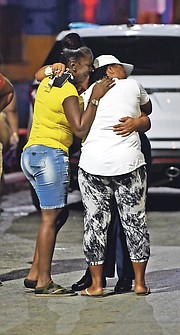 By RASHAD ROLLE and RIEL MAJOR
Tribune Staff Reporters
Police are investigating after four men were killed in two separate shooting incidents, hours apart.
In the first incident, two men were shot and killed at Potter's Cay Dock on Wednesday night. The men, both shot in the head, died at the scene. 
Police fought to restrain a woman believed to be a sister of one of the deceased. "They wrong for that. Why they kill my brother?" the woman cried.
The double killings come nearly three months after another man was shot dead at the dock and is bound to fuel concerns of the thousands of tourists who holiday at the nearby Atlantis resort.
Acting Deputy Commissioner of Police Paul Rolle said: "Shortly after 8pm police received reports of gunshots at Potter's Cay Dock at one of the local establishments. The officers assigned to the Potter's Cay Dock area heard those shots and immediately responded to the eatery where they met two adult males suffering from apparent gunshot injuries to the upper body. The assailants after the shooting left heading in the southern direction of the dock and disappeared in the crowd that assembled after the shooting."
In addition to the murder on February 10, a stabbing incident at the dock in January left two men with injuries.
"We're concerned about every murder," Mr Rolle said. "We want to ensure that every person in The Bahamas is safe so we view murders for what it is and we treat all of them with our utmost concern."
Asked whether police presence was adequate, Mr Rolle reiterated that police were on the dock and that officers responded to the gunshots.
"We will continue to police as the need arises," he said.  However, he declined to say if  the patrol of the area will be increased.
"I don't know if we would call this a hotspot. This is an area where people come to have a good time and we want everyone to feel safe and move about and enjoy yourself," he said.
Located no more than 1,000 yards from Atlantis, the dock has long been one of the country's popular cultural hubs, catering daily to Bahamians and tourists.
In the second incident, a drive-by shooting left two men dead and one man injured in hospital Thursday morning.
According to Superintendent Shanta Knowles, shortly after 7am police received reports of gunshots being fired in Whites Addition, Kemp Road and that a number of people were injured. 
At the scene, Supt Knowles said: "Once the officers got here, they discovered that two persons were in fact injured and confirmed deceased. Another [person] was transported to hospital and is in stable condition."
Speaking to reporters during a walkabout in the area hours after the shooting, Royal Bahamas Police Force Commissioner Anthony Ferguson said: "The incident involved a single vehicle that drove through this location and occupants from that vehicle fired indiscriminately thereby fatally injuring two persons."
Police are actively trying to identify the occupants of the vehicle in question. "So again, we are appealing to the people in the Kemp Road area to assist us with this investigation," Supt Knowles said. "Give us as much information as possible that we can bring this matter to a close quickly."
She added: "Police are asking anyone with information that can assist with this investigation to contact the Central Detective Unit at 502-9991/2, Crime stoppers at 328-TIPS (8477) or the nearest police station."