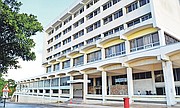 By NATARIO McKENZIE
Tribune Business Reporter
nmckenzie@tribunemedia.net
The General Post Office will open at its new Town Centre Mall location next week, Tribune Business was told yesterday, as staff complete the move from East Hill Street.
Jennifer Johnson, the acting post master general, told Tribune Business that customers should temporarily use its various sub-post offices for services after several irate businesses contacted this newspaper to report that the former head office was closed.
One senior executive, speaking on condition of anonymity, said the closure had made it impossible for their company to bill clients via the mail, thereby disrupting their cash flow and operational viability. "It's ridiculous and an embarrassment," they told this newspaper.
Emphasising that such problems should soon become a thing of the past, Mrs Johnson said: "We began moving since last Thursday and we are winding down much of it [East Hill Street], getting our records and the rest of that while not realising that we have as much as we do.
"All of our machinery is already relocated. About 90 percent of the staff are now setting up at the new location, getting themselves sorted out. We hope to be completed with all of that by the end of this week and we should be in the new location next week."
Mrs Johnson added: "We haven't shut down our systems here [East Hill Street] as yet as there are some things that we do internationally, and we still need some folks here. We still have to maintain some things behind the scenes.
"We have persons here still, but as soon as all of our IT systems, our Internet and other connections are up and running at our new location then we can completely shut down. We have a total of 90 persons stationed at the General Post Office. We may now have about 20 here currently just to maintain the flow of operations on this end while the majority of our staff are trying to get moved in or set up their stations."
Mrs Johnson said postal services can still be accessed at the various sub-offices. "The savings bank services are still being offered at the Shirley Street post office," she added. "Persons can still clear their boxes until they are in receipt of new keys.
"They can send out mail through the sub-stations. By next week we expect to be operational at the Town Centre Mall. The move is absolutely welcome. It's an understatement to say that we are happy to move."
Issues at the run down East Hill Street location have impacted the Post Office's revenue generation capability, reducing its contribution to the consolidated fund to around $2m from about $6m in 2012.