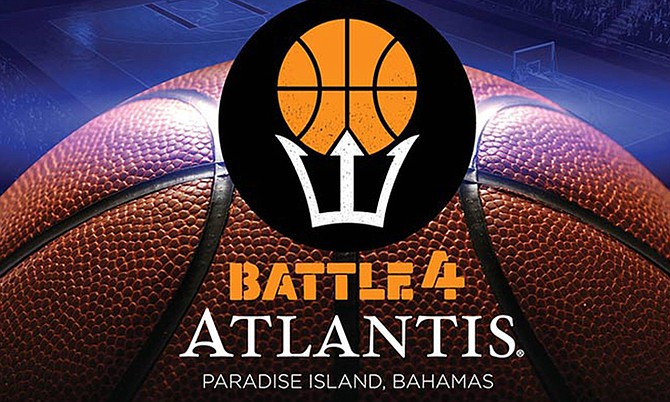 THE Bad Boy Mowers Battle 4 Atlantis, presented by Complete Sports Management, is set to feature another star-studded field in 2020 with one former tournament champion and one of the most recognised names in NCAA Division I basketball.
The Duke Blue Devils (ACC) will headline the field along with the Ohio State Buckeyes (Big 10), Texas A and M Aggies (SEC), West Virginia Mountaineers (Big 12), Utah Utes (PAC 12), Creighton Bluejays (Big East), Wichita State Shockers (AAC) and a team yet to be determined to round out the field.
Duke won the 2012 Battle 4 Atlantis and will be one of several returning teams along with Texas A and M, Utah and Wichita State.
West Virginia, Ohio State, and Creighton will make their tournament debut.
This year's tournament will feature another outstanding field, setting the stage for the Gonzaga Bulldogs (WCC), North Carolina Tar Heels (ACC) and Michigan Wolverines (BIG 10) to headline the 8-team group.
The remainder of the field also includes the Oregon Ducks (PAC 12), Seton Hall Pirates (Big East), Iowa State Cyclones (BIG 12), Alabama Crimson Tide (SEC) and Southern Mississippi Eagles (C-USA).
The tournament will again be hosted at the Atlantis resort's Imperial Arena, November 27-29 during the Thanksgiving holiday weekend.
Three members of the field were ranked in the top 10 of the Associated Press Top 25 Poll including No.4 Gonzaga, No.7 North Carolina and No.9 Michigan.
Those three teams will also make their return to the Bahamas for their second appearance at the B4A.
The Tar Heels participated in the 2014 tournament where they finished fifth. Gonzaga and Michigan were both in the 2015 event where they finished third and fifth respectively.
The most recent edition of the tournament featured the title-winning No.4 Virginia Cavaliers, No. 25 Wisconsin Badgers, Florida Gators, Butler Bulldogs, Dayton Flyers, Stanford Cardinal, Oklahoma Sooners and Middle Tennessee Blue Raiders.
The Cavaliers became the second straight B4A Champions to go on to win the National Title at the conclusion of NCAA March Madness.
Villanova turned in the same accomplishment the previous season, capturing both the 2017 Battle 4 Atlantis title and the ensuing national crown.
Every year since the tournament's inception in 2011, at least half the teams in the eight-school Battle 4 Atlantis field have qualified for that season's NCAA Tournament. The tone was set during that first tournament, when four of the Battle 4 Atlantis teams made the NCAAs and two more were in the postseason NIT (National Invitation Tournament).
Combined, Battle 4 Atlantis participants have produced three national champions (Louisville was the first to do it in 2013) and 41 NCAA Tournament appearances, meaning that 64 per cent of the teams that have played in the Battle 4 Atlantis Classic have gone on to make that season's NCAA Tournament.
In addition, teams in the Battle 4 Atlantis Classic have won 13 regular-season conference championships and 12 conference tournament titles.