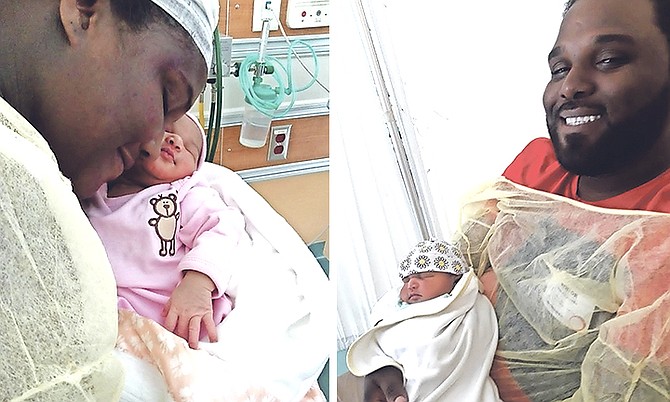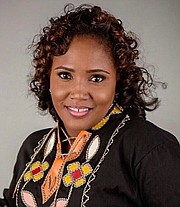 By FELICITY DARVILLE
"Welcome to the world!"
Those were the resounding words declared by the surgeon as he pulled out my baby girl on the morning of April 24, 2019. With tears of joy flowing from my eyes, I heard her cry and saw the beautiful body that was growing inside of me all those months… all 8 pounds, 8.5 ounces of her.
Things didn't work out the way I wanted, but I accepted the situation and made the best of it. I was looking forward to a normal delivery. For months, I had practised my hypnobirthing techniques and was ready to use mind over matter to conquer the contractions and have a great delivery. However, my little princess Victory was cozy in her mother's womb and was not ready to exit. All the walking, drinking thyme tea, Epsom salt baths and stairs climbing did not bring her. I had to oblige the doctors and have a C-section, as I was not a candidate for induction of labour. My requests for delay cord clamping, immediate skin-to-skin and breastfeeding went out the door once the surgery was ordered. I was disappointed but not defeated.
What the turn of events did create was an opportunity for me to experience Princess Margaret Hospital's Critical Care Block, not only because of the surgery, but because Victory spent her first several days in the Neonatal Intensive Care Unit (NICU).
I spent my first day on the post natal ward being prepped for surgery the next day. Meantime, I had to have at least two people donate blood to the blood bank before the surgery. My husband and mother-in-law donated blood because without it, my surgery could not be initiated. I did not know that before-hand. If you ever have to go for surgery there, be prepared ahead of time to ask at least five people to donate blood to the blood bank.
SUPERSTARS OF SURGICAL
The next day, I went for surgery. I was impressed by the cleanliness of the area and the doctor's dock where there were groups of doctors and support staff conversing and planning the surgeries. There, I was greeted by anaesthesiologist Dr Brennen and Nurse Bowe. They were the best two people I could meet at this time. They made me feel comfortable as they prepped me. Nurse Bowe used tact and care, and assisted with friendliness and a big smile. As for Dr Brennen, I am certain the whole process would have been much more harrowing without him. He was with me from preparation until the completion of the surgery and because of his presence, I remained calm and felt confident every step of the way. This young man was very professional, yet very relatable. He cared about my well-being, and he went out of his way to make me feel comfortable. His handling of me was the epitome of what I expect to see from a health care provider – health and care at the highest level. He talked me through the entire process and had a healing touch that made a big difference in my experience.
In the theatre, I was once again impressed. It appears to be state-of-the-art with everything the professionals need to do their job. As Dr. Brennen wheeled me in, Tarrus Riley's "She's Royal" was playing, and I couldn't think of any song more fitting to calm my nerves as I entered the room with huge lights and surgical equipment. It was there that Dr Sealy, an upbeat and to-the-point surgeon did his job. He led the team that took care of my baby and I – from the local anaesthesia, to the delivery, to the care of the baby, to the sealing up of the process. Dr Sealy was a great leader and the event was a success. In recovery, Nurse Bowe, joined by Nurse Brown, did a great job of taking care of me.
Back in the Post Natal ward, I learned my baby would have to be taken to NICU for monitoring. It was heart wrenching for me. I didn't get to hold her the following day like some of the other mothers who'd delivered by C-section. I knew, however, that doctors were doing what they thought was best for her well-being.
The Post Natal ward is a far cry from the Critical Care block. I had this feeling the ward had not changed much at all since I had been there last – some 14 years prior. It was difficult recovering on those beds. They were worn out and offered little support for mothers who are in dire need of good back support and comfortable resting spaces. Underneath the beds appeared rusty and rickety, therefore it made no sense asking if the bed could be elevated for your comfort. Basically, you just want to get out of there. I went to sleep dreaming of my own bed at home.
STARS OF THE POST NATAL WARD
The staff, however, made the experience of that ward a bit more pleasant. Nurses Bethel and Saunders are veterans in their field who understand what a mother is going through right after delivery. It's amazing how important kind words, warm smiles and caring gestures are in a patient's recovery. There was a Filipino nurse who inserted my catheter and responded whenever you called for her on the night shift whose name I did not get, but she, too, deserves commendation. I also have to commend Dr Dorsett who was the first to check my wound, and she did so with tender care.
What health care providers should take note of, especially in Princess Margaret Hospital (PMH) is that patients are in a vulnerable state. They don't need to be rushed (whether in providing care or in explaining one's condition), treated with disrespect, ignored, or underestimated. Each provider should identify themselves to the patient. They should explain what they are doing, not just start strapping on a device or preparing an injection without informing the patient of what is being administered. The patient must be treated with a higher level of respect.
It is because of the inconsistencies I witnessed when it comes to the care of the patient that I made it a point to focus on the "superstars" – the health care providers who went above and beyond in this week's column. None of them had any idea that I am a writer and that their good deeds would be written and recorded in this way for the nation to take note. They were just happy to do their job. For those who enter the hospital doors to work and they are not happy to be there, they should find another vocation; because in some cases, it's a life and death situation.
KUDOS TO THE CAFETERIA AND NUTRITION DEPARTMENT
I was impressed that the food that came to us as patients from the hospital cafeteria was of a good standard. It was much better than I expected. I indicated from the start that I am a vegetarian. Each day, meals came to me that were adequate. Considering the hundreds of patients who must be fed daily, I thought it noteworthy to mention that my meals included fresh, quality ingredients and seemed to come from a kitchen that took pride in what was being served.
SUPERSTARS OF NICU
The Neonatal Intensive Care Unit, which is a level three facility, is nothing short of amazing. This facility is of the highest standard and provides care for newborns who may have otherwise not made it, considering their start in life. I almost couldn't believe my eyes to see some of the babies weighing only a pound or two in their incubators. Day and night, nurses and doctors provide care for these tiny human beings.
There are stringent rules for entering the area, and procedure is taken seriously. One of my main concerns was my ability to breastfeed my baby while in their care. It appeared to me that some nurses and doctors are a little more open and receptive to breastfeeding than others. I was thankful that Dr Major mentioned that PMH is indeed a "breastfeeding friendly" hospital. I would like to see that philosophy be adopted in every aspect of mother and baby care in the hospital. My husband and I truly appreciated the help of NICU's Nurse Bullard. She went above and beyond to ensure that she assisted me with whatever I needed to be able to comfortably breastfeed, and she also made sure to give my baby all the milk that I pumped and left for her during the night. She also took the time to answer any questions we had, understanding how difficult it is for parents having to part ways with their tiny bundle of joy each day. Dr King puts a lot of love and care into his job. Although our baby did not need as much of his attention as some of the others, and although he could have interacted with us a bit more, we did observe how well he took care of the babies and how much effort he puts into his job.
We were thankful for Dr Lochan who initially consulted on our baby's care. He is a veteran and we felt confident in his level of care. We extend special thanks to Dr Mendes-Rolle. She explained things well and after speaking with her, I could breathe a sigh of relief. She knows how to relate to parents and she led her rounds with professionalism. And finally, Dr Maples and Nurse Christie-Brown in the OBGYN Day Unit are outstanding. They made my postpartum care experience enjoyable. Christie-Brown is a gem among nurses.
I took the time out to say thank you because all too often, good work goes unnoticed. PMH may be in need of improvement but there are some things to be commended.