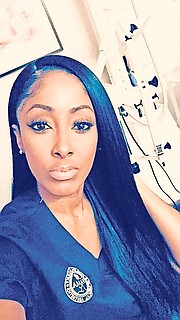 By ALESHA CADET
Tribune Features Reporter
acadet@tribunemedia.net
It was after a terrible acne breakout three years ago for which she failed to find an effective remedy that Simone Gibson decided to take matters into her own hands, literally.
She enrolled in an international aesthetic school to not only discover the factors that were responsible for agitating her skin, but to also return home to help others with similar skin care woes.
Today, Simone successfully owns and operates her own skin care studio named Skinistry, located on Carmichael Road.
"I've always had a thing for skin care. I loved making all-natural masks and moisturisers at home for years. I started applying to skin care schools back in 2011, but got sidetracked by life," said Simone, who expressed her goal for Skinistry is simple: to help others achieve healthy, radiant skin.
A person's face is the first thing people notice about an individual, she said. "I know how insecure you can feel when your face isn't the best. Acne, dark marks and scarring can make you really uncomfortable with showing your bare face. I want to change that. I want women to feel comfortable going out without makeup, embracing their natural beauty. I want makeup to be an option, not a necessity," she said.
Simone's specialty services at Skinistry include assisting with acne and hyper-pigmentation. However, she also offers facials for everyone, including men, women and teenagers. These include classic facials, microdermabrasion, dermaplaning, chemical peels and micro-needling.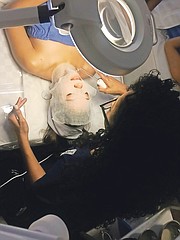 "I focus on the holistic side of skin care, so my products are organic and safe for the skin. The most obvious benefit of getting a facial is that it improves your skin's health. But a facial does more than simply clear away acne. In reality, facials do many things for skin health, like improve your skin's ability to retain water and stay hydrated, which helps your skin stay young-looking and supple. It also can make pores smaller so that they are less susceptible to gathering dirt and debris, which can cause acne and infections. Facials also remove pollutants from the skin that can make your body sick, and they feed skin with necessary vitamins, like vitamin A and vitamin E," said Simone.
She said although her main focus is healthy skin, she also advises her clients on the importance of having an overall healthy lifestyle. She noted that diet is an important part of healthy skin, and eating healthy, exercising and drinking lots of water is a part of her the skin regimen she assigns her clients.
"My clients love their treatments. They are pleased with the facials and the improvement in their skin. I aim to please at Skinistry; my client's happiness is very important to me. We are growing and expanding, adding a few new services like permanent hair removal, massages and a client lounge. Stay tuned for more updates via our social media," said Simone.
For more information, check out @skinistry_ on Instagram; Skinistry on Facebook, visit the website www.skinistrystudio.com, or call (242) 826-4564.