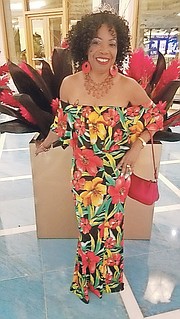 By ALESHA CADET
Tribune Features Reporter
acadet@tribunemedia.net
Sharon Ferguson worked a 9-to-5 job for over 20 years. And while she loved her job, she felt a strong desire to be less restricted and more creative.
Like most self-starters find out, becoming your own boss takes a giant the leap of faith. The first step is believing you can do it, the second is executing your plans.
For Sharon, she prayed to God to reveal her hidden talents. As soap-making was already a popular pastime in her family, she decided to perfect this craft. To do so, she enrolled in a course at the Apples and Spice Homemade Herbal Soaps Company in Athens, Georgia, where she obtained a certificate in the art of soap-making.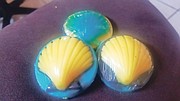 "From the first batch, I was hooked. I ate slept and dreamt soap, to the point where several years later I asked my boss to release me (from my job) so that I could pursue it full-time. Leaving a secure job to start your own business is a risky and scary deal, but so is talking a walk or driving a car. You weigh the pros and cons and see the benefits of each side. For me, my son was the priority and I wanted to be there for him as my mom was for me. Further, I was able to set my own hours and work at my own pace. In many instances it felt like my life was my own and I was not tied to the clock. It requires discipline and flexibility, but in my opinion it's well worth it," said Sharon.
Sharon's home-based business, The Rose of Sharon, offers a variety of custom-made products for the bath and body. She also caters to special events such as weddings and showers, or any other occasions where her soaps fit the theme.
The product line includes everything from decorative soaps to shower gels, shampoos and conditioners, body sprays, bath salts and crystals, soy candles, lip balms massage oils, and more.
The Rose of Sharon products can also be found at the Red Lane Spa at the Sandals resort and at other boutiques, gift and souvenir stores in Nassau.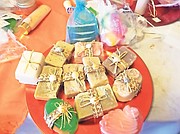 "The response overall has been very positive and rewarding. It's a joy to see persons come back over and over again for their favourite product, not only because they like it, but it also works for them. Customers love the variety of fragrances and beach-themed shapes. The soaps are wonderful to use and perfect for bathroom décor. I would like The Rose of Sharon to become a household name, not just locally, but internationally. Handmade soaps are becoming more popular now as people realise the benefits of natural soaps and body products. And with social media, the global market is open and the sky is the limit," said Sharon.
Sharon said she was inspired to create a completely new soap to her product line based on a customer's request. This customer's grandson suffers with eczema and she asked if it were possible for Sharon to formulate a soap for him.
"While doing some research I read where the sage bush was very good for eczema and thought how wonderful it would be to have it in the form of a soap," said the customer. "So I contacted Sharon and asked her if it could be done and she said 'yes'. She said she would even add some oil as a moisturiser. A few weeks later the soap was ready. It looked and smelled so good. She also included a cream to apply after each bath. Every night I would bathe my grandson with it and after a week noticed he was not scratching and complaining as much. It really works. Her soaps are amazing. If you can't find it, she will create it and make it for you. Love her creativity."
Those interested, can keep up-to-date with The Rose of Sharon on Facebook, or seek out the brand at the Nassau Night Market, held every Saturday at Market Slope, next to the Straw Market in downtown Nassau.