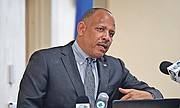 By DENISE MAYCOCK
Tribune Freeport Reporter
dmaycock@tribunemedia.net
MINISTER of Health Dr Duane Sands has repeated his call for Bahamians to get up to date on vaccinations in the face of a worldwide measles outbreak.
He also reiterated the Bahamas' immunity/vaccination penetration rate for children has slipped to 89 percent, stressing the current rate "is not good enough."
As a result the Ministry of Health has embarked on a "catch-up" campaign to identify those children who have not been vaccinated, particularly against measles mumps and rubella (MMR).
"We used to have about 95 percent penetration, meaning 95 percent of the children got all of their immunisations. That has dropped down to 89 percent, and that is not good enough," he told The Tribune.
In addition to their campaign targeting school children, Dr Sands said the ministry is also looking to vaccinate people who work at port of entries in the country, such as police officers, airport workers, and immigration officers etc.
"The best thing that we can do to protect our people against measles is to have what we call herd immunity of about 95 percent. So 89 percent is not good enough. If you know you have not vaccinated your children or your child; or you are a grandparent and know that your children did not do what they were supposed to do, take your child to a clinic to be vaccinated," he said.
"We are going to be going to all the schools. We are in the midst of that process and we anticipate to get between 30,000 and 40,000 additional persons vaccinated, and above about 5,000 babies that get vaccinated every year. "
With summer approaching, many Bahamians will be preparing to travel to the US to vacation and shop.
Dr Sands indicated the measles outbreak has really shocked the entire developed world.
"Bahamians are not as well vaccinated as we need to be," he said. "When many developed nations declared the end of the measles in almost 2000, and in The Bahamas 10 years ago we thought we seen the end of it.
"Unfortunately, what happened was there are a number of people who would have followed pretty fallacious views about the risks of vaccination and they created a quite a significant anti-vaccination movement."
Dr Sands explained that this created pockets of poor vaccine penetration which left those populations susceptible to the measles outbreak.
He noted that around the world between 2017 and 2018, health officials have seen a 300 percent increase in measles, and almost 100,000 deaths in 2018.
The health minister described it as a very serious problem.
In The Bahamas, he said public health officials give vaccinations for measles, mumps and rubella together. He noted that two doses are administered.
"We generally give the first one in the first year of life and then typically at age four to five years," he explained.
He said officials are reviewing evidence regarding booster shots for adults who were vaccinated some 30 years ago.
"Adults who had one shot, there is something circulated that if you were born before 1989, you should come and get a booster. We are reviewing that evidence to determine whether or not if you had two MMR shots whether that is necessary. At this point those persons are not yet on our radar," Dr Sands said.
"So please, if you were vaccinated and had two doses of MMR and you have your vaccination card that confirms it, sit tight. We are more concerned about those kids who have gotten either none or one. Bear in mind, we have not seen any locally grown cases. All of the two cases of measles we saw was from the same the family who came from France."