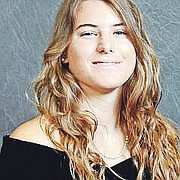 By RIEL MAJOR
Tribune Staff Reporter
rmajor@tribunemedia.net
A BAHAMIAN boarding school senior has broken the institution's 29-year sports record in discus. Kacey Kemp, of Darlington School, told The Tribune yesterday she felt amazing winning the discus category last Friday in the Georgia High School Association's track and field meet. She also wished her deceased father was present to celebrate her win.
"I remember last year I competed and ended up in third and I know (my dad) was really proud of me for that and pushing me to keep continuing what I was doing with sport. I wish he could have been here to see me get first and break the school record, but I know he would have been proud of me if he could have been here to see it."
Kacey, pictured right, said breaking the record has been her goal since she started the sport three years ago. She explained: "It was what I set out to do. It's one thing I wanted to do before my senior year ended and I started to get worried about it being the second half of the season that I hadn't done it yet.
"I mean I got up there and just threw one just right and it made me so incredibly excited and happy. I now have that record and I now have a place here at Darlington, hopefully for a long time."
She added: "I also got to meet the (previous) record holder (Janet Highnote-Elberhart). She was wonderful and so genuinely excited that I had broken her record and it was a really nice experience to meet her."
The 18-year-old said she received a scholarship and will be attending the University of North Carolina Chapel Hill after graduation.
Athletic Director Eddie Guth said: "Kacey started throwing shot put as a freshman and I knew that she wanted to throw shot put and not discus. I also knew she had the potential to be the new record holder because of the natural talent I saw in her.
"This year Kacey was throwing 116 and 117 feet consistently but had a hard time getting over that hump. She had a monster throw during our area track meet that soared to 125 feet, beating Janet's record by four feet. "