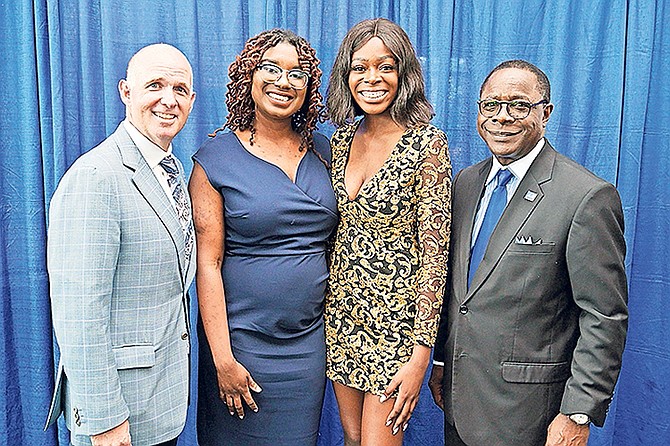 WHITNEY Curtis and Erin McKenzie received a life-altering education from Middle Tennessee State University, thanks to the Cartwright-Coakley Scholarship.
The students are the first two MTSU graduates of the scholarship, which Michael and Tina Cartwright of Franklin, Tennessee, established in 2015.
Their aim was to help students from LN Coakley High School in Great Exuma receive an education at MTSU and return to work to be leaders in their hometown, George Town, which has a population of about 7,000.
A behavioural health business owner and former MTSU student, Mr Cartwright is chairman and co-founder of the Brentwood, Tennessee-based American Addiction Centres. The Cartwrights established a $600,000 scholarship fund, which he said has grown to nearly $1m, to fully cover six scholarships for tuition, housing and other expenses.
"Our goal is to have all of them graduate from MTSU and come back to Great Exuma and help with the schools or in social work and help the local population," he added.
Mrs Cartwright earned a master's degree in education from MTSU, specialising in guidance and counseling.
Led by university President Sidney A McPhee, MTSU hosted a luncheon for Ms McKenzie and Ms Curtis during the commencement on May 4. Alexander Cartwright, a University of Washington computer engineering student and the Cartwrights' son, joined his father and an uncle, Wallace Cartwright, at the event and at university commencement.
A second luncheon celebration for the two and their families was held on Saturday in Great Exuma.
Mr McPhee, a native of The Bahamas, applauded the Cartwrights for their ongoing commitment to the island nation through the special scholarship.
Ms McKenzie, 20, graduated with a bachelor's degree in accounting. She earned dual minors in business administration and environmental science and technology.
"Graduating from Middle Tennessee State University has been the proudest moment of my life thus far," Ms McKenzie said. "Being a recipient of the Cartwright Scholarship has changed my life, not just academically but also culturally.
"Moving from an island of 7,000 people to a school of 23,000 people … my eyes were opened to a totally new culture, which at first was overwhelming, but I eventually grasped the opportunities and used it to my advantage."