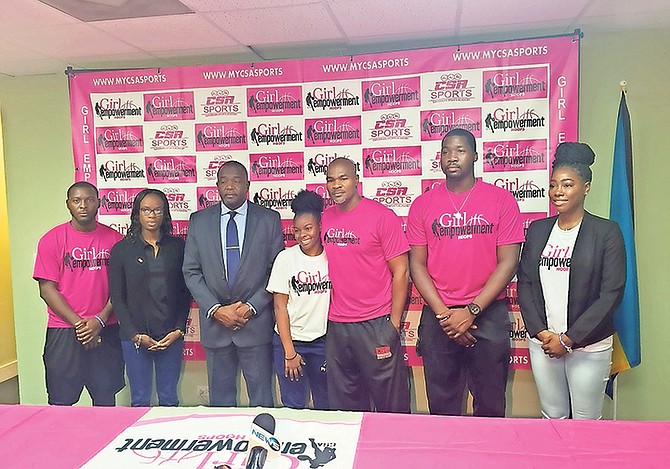 By RENALDO DORSETT
Tribune Sports Reporter
rdorsett@tribunemedia.net
CARIBBEAN Sports Academy Basketball has launched a new initiative, aimed at the local development of young women in the sport.
The CSA Girls Empowerment Hoops Programme will be a girls only, year-round basketball skill development programme for girls aged 10-15, the first of its kind in the Bahamas.
Marvin Henfield, CSA basketball director, said the mission of Girl Empowerment Hoops is to elevate the development of female basketball in the Bahamas by providing year-round exposure, play and basketball skills development.
GEhoops will launch on Monday (May 20) to begin two free weeks of camp, hosted Mondays, Wednesdays and Fridays, 3:45 to 5:15pm at the Kendal Isaacs Gymnasium outdoor courts.
Five weeks of skill development will be hosted June 3 to July 5, Monday through Friday 3:45 to 5:15pm at the Kendal Isaacs Gymnasium outdoor courts. Ages 10-12 will train Tuesday and Thursday while ages 13-15 will train Monday, Wednesday and Friday.
"This initiative is personal to me as the father of three beautiful daughters and two years ago, my middle daughter decided she wanted to play basketball. I've spent 24 years of my life working with the game, developing and investing in other people's kids. So when the opportunity came for my daughter to become interested to train and invest in her I got excited," Henfield said.
"Girls Empowerment Hoops is designed on three pillars - development, exposure and play. The first is the development, our objective is to elevate the play of girls basketball to put it on par with that of boys. With the development and exposure of our girls we also want to increase play. We want to create opportunities for our girls to play locally, nationally and internationally.
"No matter your skill level, beginner or advanced, we will meet you at your level of need. We have eight instructors in our programme and we have an exciting robust programme over the next few sessions. We look forward to training the next generation of women's hoopers."
CSA Basketball Academy is a weekly, faith-based, non-profit organisation that teaches basketball fundamentals and life skills to young men and women between the ages of five and 18, hosted at the CI Gibson Gymnasium.
"This is a product of CSA Basketball Academy. Since our inception in 2009, we have had the privilege of mentoring just over 500 athletes," Henfield said. "This is an extension of what we have established our academy and is meant to mentor girls only. I think it is safe to say this is the first year-round girls only programme in the Bahamas."
Fellow members of the CSA administration expressed their anticipation of the initiative.
"I've been a part of CSA since 2009 and I can attest to the environment as a positive, respectable and friendly one. I know it is mostly boys and men at that time but it was a great environment for girls as well," said Samara Barr, a former student and now a CSA administrator.
"I'm so excited that basketball for young women will be getting year-round attention. Come out and participate for the two weeks to see if you like the environment. When I just started I didn't know anything about the game but CSA gave me that confidence to step out and show my skills."
Said Domonique Fernander, assistant director of CSA Basketball Academy: "Young women are welcomed to be more outspoken, to be stronger, to be themselves. We are really excited for young women to take the game that they love, get quality training and use it to get information and education to better themselves. This is going to be something that is going to be beneficial to our communities."
Mario Bowleg, president of the Bahamas Basketball Federation, said the programme is in line with his administration's mandate to promote women's basketball.
"We have said it and I want the nation to understand that we are truly behind programmes such as this and others that will come so we raise the level of women's basketball in this country," he said.
"While we use basketball as a tool we want to mold the characters of these young people to ensure we help the country at large and promote positive behaviour. Federations should go through communities and bring them together to promote that positive behaviour and basketball is our tool that we plan to use."