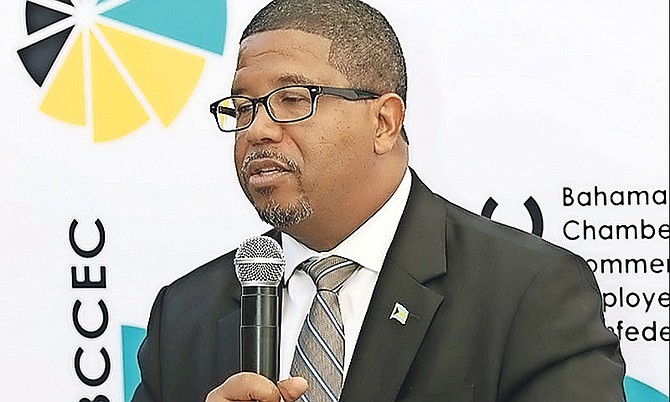 By Natario McKenzie
Tribune Business Reporter
nmckenzie@tribunemedia.net
THE Bahamas must get its state-owned enterprises (SOEs) "under control", the Deputy Prime Minister is demanding, saying: "They have been running like a runaway train."
K Peter Turnquest, who addressed the Eleuthera Business Outlook conference as the keynote speaker, said: "The reality is we have to get our state-owned enterprises under control. They have been running like a runway train.
"They have been used to bulk up employment and place people who may not be competitive in other fields or endeavours, and that is a very destructive practice. Not only are you chewing up revenue but you're also creating an inefficient environment which permeates out into society, and the public has to pay through inefficient service and increased taxation."
Mr Turnquest said the Minnis administration is seeking to create an improved governance structure around SOEs to ensure their efficiency. "We are in the process of contracting a consultancy to look at these SOEs and make some recommendations as to how we ought to adjust the governance structure and legislation," he added. 
"We may need to put the legal structures around that. That will mean that the qualifications for some people on these boards will be more defined so there will be less room for political appointments because we need professional management, efficiency and people who know what they are doing. Part of the legislative mandate will be around board appointments and management appointments."
The Government, in its nine-month "fiscal snapshot", unveiled plans to create a State-Owned Enterprises Bill that will introduce "the same kind of accountability and discipline" to SOEs that the Minnis administration is currently implementing with central government.
The Government's 2018-2019 budget listed some $398.294m in subsidies allocated to SOEs and agencies for the 2018-2019 fiscal year, down slightly from the prior year's $410m. The bulk of this sum, some $216m or more than 50 percent, was due to the Public Hospitals Authority (PHA) to cover its operational costs.
The usual loss-making suspects, such as Bahamasair, the Broadcasting Corporation of The Bahamas, Nassau Flight Services and the Hotel Corporation were also included among these subsidies, continuing their reliance on Bahamian taxpayers to underwrite their existence.
Besides these SOEs, other perennial loss-makers such as Bahamas Power & Light (BPL) and the Water and Sewerage Corporation also fall into the category of SOEs that fail to recover their costs. Both are selling their services below cost, with the latter having not seen a tariff rise for two decades.
Mr Turnquest, meanwhile, said the Minnis administration plans to use the fiscal head room created by eliminating $360m in outstanding arears to help absorb the anticipated revenue losses associated with tariff reductions under World Trade Organisation (WTO) accession.
"In 2017-2018 we put forward a three-year fiscal strategy, and the results up to the nine months are showing that we are making progress towards achieving the intended results," he added.
"One of the things we are proud of is we are starting to pay down all of these massive arrears we have accumulated over the years. This year we had anticipated paying down $172m. We have paid $113m thus far and we will see how far we can get depending on cash flow for the remainder of the year.
"This is important because, as we liquidate these arrears, we free up cash we can spend on others things - whether it's in reduction of taxes or whether it's investment in other productive infrastructure to help us grow this economy and provide the kinds of services Bahamians deserve."
Speaking to the pending WTO accession, Mr Turnquest said: "In respect to revenue losses anticipated as a result of tariff reductions that will accompany any WTO concessions, we have already planned that into our three-year strategy.
"As we pay down these arrears it frees up some room to absorb these revenue losses that we anticipate will come as a result of having to reduce tariffs at the border, and doing that without any tax increases but more management of the revenue yield and compliance as well as continuing to be watchful of our overall fiscal policies."