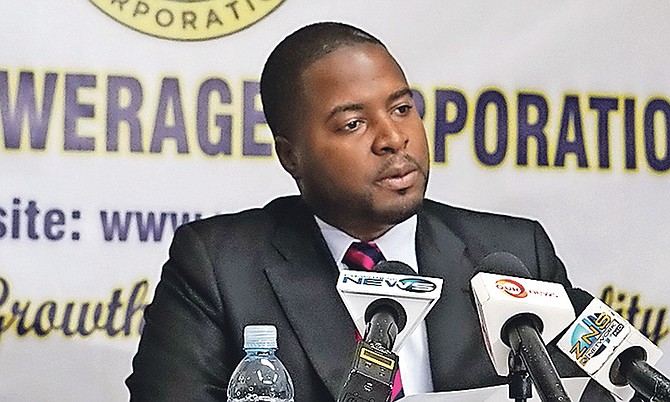 By Natario McKenzie
Tribune Business Reporter
nmckenzie@tribunemedia.net
THE Water & Sewerage Corporation's (WSC) total Family Island revenues increased by 47 per cent year-over-year during the 2018 fourth quarter, its executive chairman has revealed.
Adrian Gibson, addressing Friday's Eleuthera Business Outlook conference, said an extra $827,994 was collected "above and beyond 2017" for the same period as the corporation stepped up enforcement and collection.
"These gains were led in part by Eleuthera, which was up by 78 per cent to $899,316 during the assertive exercise period," he added. "Overall revenues for Eleuthera were up 19 per cent for a total of $2.602m. 
"For 2019, the figures are trending even higher. It should also be noted that the annual revenue numbers would be much more. However, the Family Island rates are much less than that of New Providence. The Family Islands are heavily subsidised."
A recent Inter-American Development Bank (IDB) report revealed tariffs charged to WSC customers in the Family Islands cover just 30 percent of the state-owned enterprise's production costs.
The report, confirming that the state-owned utility is selling water massively below cost to its customers, said: "The country's national agency, Water and Sewerage Corporation (WSC), supplies less than 50 percent of overall potable water demand in The Bahamas. Currently, only 14 percent of the population has access to improved sewerage and sanitation facilities.
"No tariff adjustments have been granted for several years, and current tariffs presently represent about 60 percent of the cost of service in New Providence, and only 30 percent in the Family Islands (where the cost of service provision is higher and the tariff lower than in New Providence)."
As a result, the IDB warned that the benefits from reducing water leaks and losses from the Water & Sewerage Corporation's system by 60 percent could be lost if there is no tariff rebalancing.
Mr Gibson, meanwhile, said: "The bottom line is that Eleuthera is one of our leading islands in investments, growth and returns. We now continue a number of talks with other developers, like the developer of Jack's Bay, Disney, new resorts on Harbour Island, etc, so that the corporation remains the provider of choice on Eleuthera."
He added the Water & Sewerage Corporation is the only provider of public water on Eleuthera, operating five reverse osmosis plants, six distribution systems and two well fields on the mainland as well as operations on Harbour Island, Spanish Wells and Current Island. The largest Family Island reverse osmosis plant is also currently under construction in North Eleuthera.
Mr Gibson said over the past two years, the corporation has completed more than 12 projects on Eleuthera involving capital investment of $2.9m. "We have an additional ten projects that are approved; these are projected to cost $3.6m," he said.