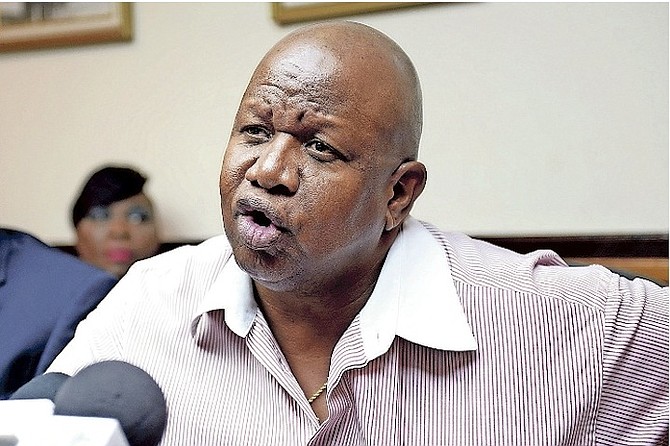 By Rashad Rolle
Tribune Staff Reporter
rrolle@tribunemedia.net
THE government has given Finnish technology company Wartsila Oyj Abp permission to bring 120 workers to the country to install tri-fuel, high efficiency engines at Bahamas Power & Light's Clifton Pier plant.
The Ministry of Labour consulted the Bahamas Electrical Workers Union on the matter and steps were exhausted to boost Bahamian participation in the project, government officials said.
BEWU president Paul Maynard confirmed to The Tribune that his union was consulted and approved the government's plans. He said there are not enough locals with specialised skills to help install the engines, which weigh several hundred tons.
Works Minister Desmond Bannister said only three Bahamians responded to job advertisements for the installation project. While approval was granted for Wartsila to bring in 120 people, he said the company originally sought approval for 200 workers.
"If you are a foreign investor and you're coming to do something in The Bahamas, your application comes to the National Economic Council," he said. 
"You make the application and your application to NEC says what the nature of your investment is, what the cost of your investment is, how many work permits you are going to need for their investment. For Wartsila to put up the plant, the normal time for them is approximately a year or 18 months. They are being asked to do this work for us in about five months. To be able to do that, they have to have certain skilled workers who have skills we don't necessarily have available on a ready basis in the Bahamas and if we have the skills those persons are already employed.
"In Grand Bahama, for example, they would have full employment in those skills. Wartsila applied for 34 supervisors and 200 workers. Based on the government's position, they went out and engaged a Bahamian civil contracting company and that company was able to have some of its workers do some of its work so the numbers of work permits they needed over a period of time decreased. They've also spoken with BPL's union and there are some former BPL workers with certain skills who are going to be engaged in this operation.
"But for the most part, the skills they need are not skills we have in The Bahamas and with the time period involved we can't just open up a school and teach people these skills. There are rolling employees involved. For example, in the first month they may need X number of welders. When those workers leave The Bahamas, then the next month, a certain number of workers with X skills come in. So over the period of that five months you got a number of workers coming in with different skills based on different stages of the construction. To do this in five months like we told them, they have indicated the number of workers they need. The government of The Bahamas has reviewed that, looked at those special skills and we didn't see a difficulty with that. As a result, NEC has approved their application."
Negotiations concerning the complement of Bahamians and foreigners that will install the equipment was incomplete by the time Wartsila's engines arrived in The Bahamas on May 7, The Tribune understands.
Mr Bannister was asked if Cabinet was aware and satisfied with the terms of the agreement BPL reached with Wartsila in March. He said: "These are corporations and the corporations have boards that are competent and make those determinations on behalf of the corporation. For example, WSC is making some multi-million dollar decisions now. They don't come to Cabinet every stage of the way and ask us if they can engage Hot Mix. Boards make decisions within parametres that Cabinet has given them. They go ahead with what they have to do. Otherwise it doesn't make sense having the board. The government supported an agreement that BPL came to with Shell and as a part of that agreement BPL has been given leeway to do what they have to do to bring (equipment) in. The government of The Bahamas, as we do with every single applicant that comes in the country, we told (Wartsila) prove to us that you need (34 supervisors and 200 workers)."
For his part, Mr Maynard said Prime Minister Dr Hubert Minnis agreed to ensure Bahamians run the plant when it is completed. "Wartsila's proposal is that they will train our staff," Mr Maynard said. "They will do assessments and the best of the staff will take over the plant. That's fine. We have no problem with that. The point and our concern is we wanted to know that Bahamians will be running the plant. With the installation process, that requires some highly specialised skills so it's different." 
It will cost $95 million to install the 132-megawatt engines at Clifton Pier. Officials say when the plant is completed later this year, it will provide more reliable electricity supply and lower fuel charges for customers.