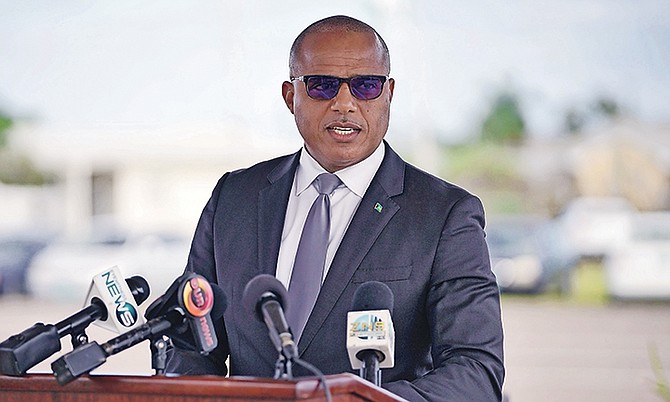 By Rashad Rolle
Tribune Staff Reporter
rrolle@tribunemedia.net
NATIONAL Security Minister Marvin Dames said the government has followed the law when applying vacation leave policies in law enforcement agencies, though he did not elaborate. 
His comment came more than a week after The Tribune reported that two deputy commissioners of the Bahamas Department of Correctional Services have accused his ministry in a lawsuit of unfairly sidelining them.
The Minnis administration has not responded directly to concerns that it has selectively applied its vacation leave policies. Doan Cleare and Bernardette Thompson-Murray alleged in affidavits that Mr Dames forced them to take vacation leave to facilitate last month's appointment of Charles Murphy, their junior, as commissioner of corrections.
They said they were inexplicably forced to take vacation leave even though Mr Murphy had accumulated more weeks of vacation than their combined total. When their leave ended, they said they were left in limbo by national security officials who ordered them not to return to the BCDS but who failed to assign them new jobs.
Asked about the lawsuit yesterday, Mr Dames said he won't get drawn into a "tit for tat" over the issue. 
"This is becoming commonplace where matters that are before the courts are being played out in one way or the other and I'm not going to get into those kinds of games," he said. "The facts will eventually come out and we'll see what happens from there. The minister is not the ministry and we operate consistent with the law and consistent with policy and guidelines and so we'll have an opportunity to tell our story but we will not play the political games back and forth.
"I don't think that's professional and I don't think that's the way that we ought to be conducting our business and I think we have to be careful in situations such as this. So it's not going to be a tit for tat and a back and forth.
"We operated within the confines of the law.  We followed established guidelines and policies and we're not going to veer from that.  We'll continue to hold true to that but I'm not going to compete with someone who's making allegations and comments in the open."