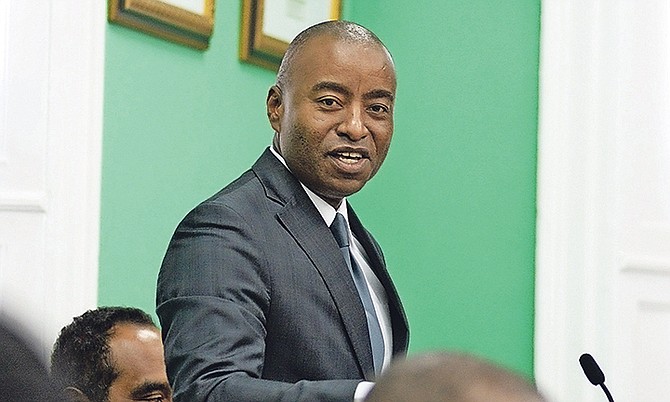 By Khrisna Russell
Deputy Chief Reporter
krussell@tribunemedia.net
ARGUMENTS raised in an ongoing war of words between United States and Chinese officials are "not our business", Foreign Affairs Minister Darren Henfield said yesterday.
Mr Henfield also told reporters The Bahamas would not get involved in the trade war between the two world powers.
However, he said the government would like to see trade issues between them settled as quickly as possible because continuing tensions would invariably impact The Bahamas.
Asked if The Bahamas should be wary of Chinese investment as had been suggested previously by US officials, Mr Henfield said: "The Bahamas has been a long time historical and traditional partner with the United States of America.
"Bahamians feel an absolute right to be able to go to America on a daily basis to be able to interact with Americans. Americans form a large part of our economic development in the Bahamas through tourism and since 1992 the Bahamas recognised China's 'One China' policy.
"We are friends with both nations. We are friends with both China and the United States of America.
"A large platform of our economy comes from foreign direct investment and we consider foreign direct investment from anywhere it comes in the world if it's good for the Bahamas we will look at it seriously and consider whether or not we will accept it."
The minister was further pointed to critical comments from both Chinese and US officials here in the Bahamas, which have been widely publicised.
To this he said: "That's not our business. What's going on between China and the United States the largest and second largest economies in the world is between China and the United States. The Bahamas doesn't see itself involved in any way."
Chinese Chargé d'Affaires Haigang Yin on Monday called on the United States government to contribute more to the development of the region instead of politicising economic and trade issues.
Mr Yin insisted China's economic co-operation in the Caribbean and Latin America was on equal-footing, and suggested other countries were seeking to capitalise on geopolitics.
He was responding to a scathing critique of China's investment in the Caribbean from US Assistant Secretary of State for Western Hemisphere Affairs Kimberly Breier at the 8th Caribbean-US Security Cooperation Dialogue last week.
Ms Breier accused China of not following international best practises, and furthered its "opaque methods have enabled corruption, eroded good governance and stolen countries' sovereignty and national resources".
Recently a One America News Network report went viral claiming that the United States' failure to appoint an ambassador had facilitated free reign for Chinese dealings in the Bahamas.
"We hope that the United States of America's Congress when they go before the committee, we have had an appointee before who has been before the committee. He should have been appointed. It didn't work out. We hope that an ambassador can be appointed as soon as possible for the Bahamas," when he was asked by The Tribune if the absence of an ambassador has affected the country.
Mr Henfield also commented on the Venezuelan crisis, saying the Bahamas would not support military intervention there.
"The Bahamas is concerned about what is going on in Venezuela. It has become a political and economic - a humanitarian really crisis. Some three to nearly four million Venezuelans have migrated from that country. It's now preparing to be a failed state.
"For whatever reason, we want that situation in Venezuela to come to a speedy conclusion. We would like to see the holding of free and fair elections in Venezuela as soon as possible.
"The Bahamas is a peaceful country. We don't want to see military intervention happening any time anywhere in the world and we won't support it."