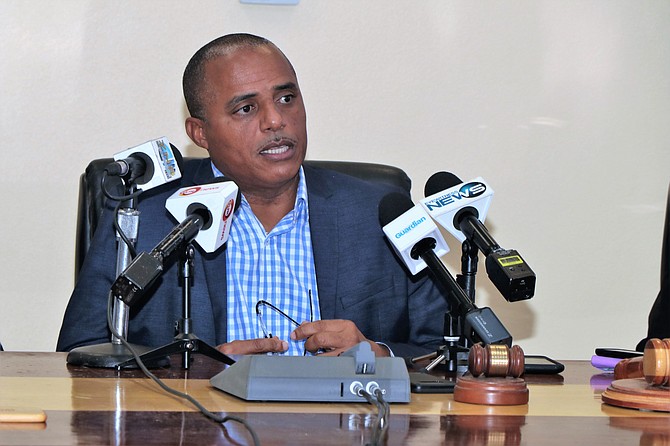 By Khrisna Russell
Deputy Chief Reporter
krussell@tribunemedia.net
OF THE 762 murders in the country since 2012, 629 of these have been as a result of gun violence, National Security Minister Marvin Dames revealed yesterday. So far this year, he said, there have been 31 murders, but 87 percent of these or 27 involved firearms. Between 2012 and 2018, approximately 602 or 82.4 percent of the 731 homicides involved guns, he also said.
Together, the numbers paint a picture of what the minister called a "gun epidemic" intertwined with challenges authorities face with the transshipment of drugs. "The Bahamas does not manufacture guns either, however, the gun epidemic is closely tied to the transshipment of drugs," Mr Dames told Parliament yesterday as he made a push for members to accept and pass the National Crime Intelligence Agency Bill 2019. "Further, more often, than not, small arms weapons greatly affect our incidences of homicides on our streets. Between 2012 and 2018, approximately 602 or 82.4 percent of the 731 homicides involved firearms.
"Concurrently, of the 31 murders for this year, approximately 27 or 87 percent involved firearms. Between 2013 and April 2019 of this year, approximately 1,486 pistols; 316 shotguns; 234 revolvers; 148 riffles; 84 imitation guns; and 18 prohibited weapons inclusive of flare guns, BB guns and machine guns were recovered by law enforcement."
When it comes to drugs, Mr Dames said the country's geographical location has plagued its national security. "The Bahamas does not grow coca plants, which are used to make the highly addictive stimulant known as cocaine.
"Between 2012 and 2018, approximately 1,424.4 pounds of cocaine and 6,856.4 pounds of marijuana were seized. There were an average of 1,432.3 arrests made for all types of drugs including ecstasy tablets, powder cocaine, liquid cocaine, marijuana and marijuana plants.
"Of the total arrests, there was an average of 1,029 cases which resulted in 1,179 persons being prosecuted. It should be noted that while Bahamian nationals made up the largest group for persons arrested for drugs, persons from as far away as Turkey were involved in the transshipment of drugs in The Bahamas. This further highlights the need for the gathering of intelligence, as crimes are now transnational in nature."
Mr Dames said these facts help frame the question regarding whether interrelated domestic and transnational issues of national security are worth protecting. "The practical and patriotic answer is, 'yes'. In context then, what does protecting a nation's national security mean and how do we do it? Those small group of individuals, whether in The Bahamas or not, who wish to exploit our country and its people will naturally organise themselves and make plans covertly, therefore, law enforcement has to use covert means to expose them.
"With the proper legal authority, we have to collect intelligence so as to make known their intentions. Then the information collected has to be analysed and assessed thereby using the results of the findings to counter any potential harm to citizens and/or our nation's national security."