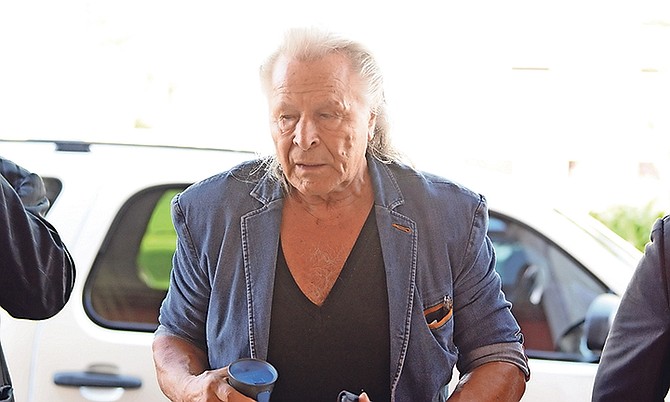 By Ricardo Wells
Tribune Staff Reporter
rwells@tribunemedia.net
THE sentencing of Canadian fashion mogul Peter Nygard on contempt charges was delayed again yesterday, with his attorneys being granted an adjournment due to a scheduling conflict.
His attorneys, the father and son team of Carlton and Rouschard Martin, were expected to appear before Supreme Court Justice Cheryl Grant-Thompson, but moments prior to the matter getting underway yesterday, the duo submitted a letter to the court requesting an adjournment.
The Tribune understands the pair cited their appearance in the Court of Appeal on an unrelated matter as cause for their absence. The request was subsequently granted.
Only the younger Martin, Rouschard, appeared during yesterday's proceedings, where he held brief discussions with Save The Bays attorney, Fred Smith QC, with the pair parting on an agreement to return to court next Monday at 10am.
The Martins were expected to present their written submissions, countering Mr Smith's March 13 submission in which he called for Mr Nygard to be jailed for contempt.
Mr Smith, at the time, submitted to Justice Grant-Thompson that a "severe custodial sentence" should be levied on Mr Nygard, as only the loss of his liberty for a "long period" would cause the "serial recidivist contemnor" to "heel" and respect The Bahamas' administration of justice.
Mr Smith said a fine would be "peanuts" for a reported billionaire like Mr Nygard, and would do nothing to instil respect for the country's judicial system in someone who told a former Supreme Court judge to her face that a hearing before her was "the biggest waste of time that I've ever experienced".
Mr Smith also revealed that Mr Nygard is now faced with another committal application for breaching Justice Keith Thompson's order for him and his attorney Keod Smith to immediately remove a sworn affidavit from Justice Grant-Thompson's court file containing "very sensitive" client/attorney information from Mr Smith's law firm Callenders & Co.
Mr Smith said a number of emails containing client/attorney information were previously stolen from his law firm via some unknown means, but were later exhibited in that affidavit by Keod Smith, which was in support of various applications by Mr Nygard to set aside the orders Justice Grant-Thompson made concerning his contempt of court convictions and to be used in his own mitigation and sentencing hearing.
This came after by an attempt earlier this month my Keod Smith to, through the Court of Appeal, stay the committal proceeding and have the matter move to the higher court.
However, the appeal was struck down, and Mr Nygard's attorneys were instructed to return to the Supreme Court to have the matter completed.
Mr Nygard's sentencing was transferred to Justice Cheryl Grant-Thompson earlier this year.
The charges stem from a breach of retired Justice Rhonda Bain's July 13, 2013 injunction prohibiting him from engaging in dredging activities at his Simms Point/Nygard Cay property.
Justice Bain, in a written ruling last July, convicted Mr Nygard for engaging in dredging activities on the sea bed near Nygard Cay between March and April 2015, and again in October of 2016, despite her June 2013 injunction prohibiting him from doing so.
Justice Bain thus said Mr Nygard's actions warranted him paying costs on a "full indemnity basis," and further ordered Nygard to pay costs to include the costs of the mitigation hearing to the applicant in the matter, Save The Bays (STB), on a "solicitor and own client basis".
Justice Indra Charles inherited execution of the sentencing for the case after Justice Bain retired.