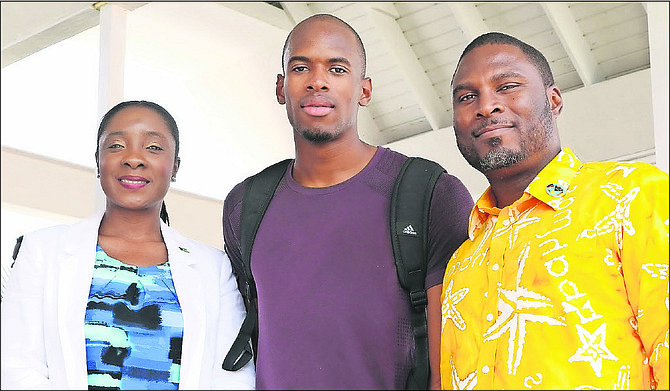 By Brent Stubbs
Senior Sports Reporter
bstubbs@tribunemedia.net
Inflammation in his right Achilles tendon prevented Steven Gardiner from representing the Bahamas at the IAAF World Relays that was held earlier this month in its new location in Yokohama, Japan.
But the Bahamian national 200 and 400 metre record holder said he expects to be fully prepared to run either event or both at the IAAF World Championships in Doha, Qatar, in September.
Gardiner, 23, was scheduled to run on the men's 4 x 400m relay team in Japan along with Ojay Ferguson, Alonzo Russell and Andre Colebrook.
But just before the start of the race, Gardiner informed relay coordinator Rupert Gardiner that he was unable to run because of the injury.
Gardiner said it was too late to try and get a member of the men's 4 x 200m relay team inserted into the line-up as Teray Smith, the other member of the 4 x 400m pool, also got hurt in practice.
"My leg was an issue and I wasn't able to compete at the World Relays and a meet in Shanghai (China) that followed the next week," Gardiner told The Tribune at home on a brief break from training over the weekend.
While at the Frank "Pancho" Rahming National Primary Schools Track and Field Championships, Gardiner said he had a chance to get in a light workout and he was feeling fine.
"It's getting much better day by day," he insisted.
Like all injuries, Gardiner said it was a setback, but not to the extent that he couldn't recover from it and continue to prepare for the remainder of this year's outdoor season.
"It's still early in the year," Gardiner said. "It was just one Diamond League meet that I missed so far, so I hope to pick up the next one."
Next on his agenda is the fourth Adidas Boost Boston Games, scheduled for Sunday, June 16 on Boylston Street, Copley Square in Boston.
Athletes are expected to compete on an elevated straight track constructed along Boylston Street between Exeter and Clarendon Streets where events are contested on parallel from the start to the finish.
At last year's event, Gardiner ran a blistering 19.88 seconds to capture the men's 200m title.
It was a great comeback as the year before he suffered a slight injury and ended up last in 31.28 as 400m world record holder Wayde Van Niekerk stopped the clock in 19.84 for the victory.
Gardiner, the national record holder in 19.75 in the half-lap race on the track and 43.87 in the one-lapper, didn't contest the initial year of the games in 2016.
"I'm going to go out there and give it my best, but I'm looking forward to taking the win," Gardiner said of his expectations for this year's event.
As for the rest of the season, Gardiner will return to the Diamond League to compete in his progress to get on the podium and winning in Doha as he hopes to either match or surpass the silver medal he earned at the IAAF World Championships in London, England, in 2017.
"I want to upgrade from a silver medal to a gold medal," he said. "That is what we are working on this year."
Although he's been one of the top contenders in both the 200 and 400m, Gardiner said he doesn't believe his management team nor his coach Gary Evans have any plans for him to pursue the double in Doha.
"Who knows," quipped Gardiner when pressed about which event he will be contesting. "I don't even know."
Gardiner, however, insisted that they are targeting both events and his training is at a very high pace in the event that they allow him to contest one or both events. "I just want to get a new national record in both events," he stated.
With last year benig an off year, Gardiner said this is a championship year so everything is going at a fast pace to get ready for Doha.
"I feel pretty good about everything. Every year, it's been pretty good so I am looking forward to this year," he said. "Every year, there are some new people, so you really have to step up your game."
If he had a choice, Gardiner said he would lean more towards the 200m because it's his favourite, having gotten started in that event under coach Anthony Williams in Moore's Island, Abaco.
"We will just have to wait and see how things go this year," he stressed.
Making the adjustment from the half-lap to the one-lap has been a hard transition for Gardiner, who relies on his tall, lanky build to manoeuvre around the track.
"It's a love-hate relationship, but I'm getting used to it," he pointed out.
No doubt, Gardiner said he would like to go after the 200/400 double. The first man to achieve the feat was American Michael Johnson.
But that will come with time and Gardiner said he's not going to rush anything.