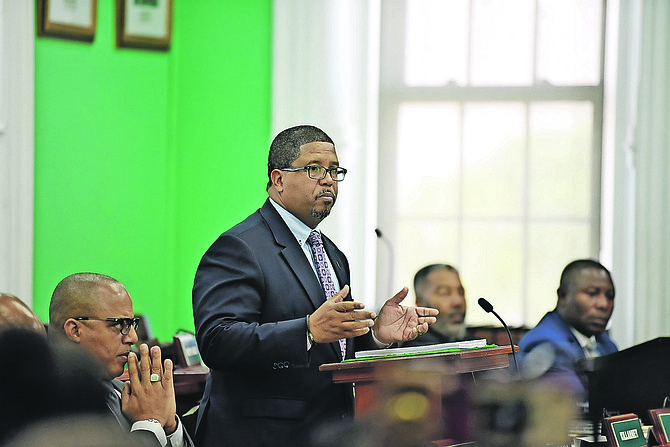 By Neil Hartnell
Tribune Business Editor
nhartnell@tribunemedia.net
The government was yesterday urged not to get carried away over its "lofty" ambition to achieve "the lowest deficit ratio" for almost two decades in the upcoming 2019-2020 fiscal year.
Gowon Bowe, the outgoing Bahamas Institute of Chartered Accountants (BICA) president, told Tribune Business that the long history of missed fiscal targets established by previous administrations meant it needed to be cautious over the projected one percent deficit-to-GDP ratio.
Urging the government to distinguish between the goal and actually achieving it, he said: "What I would caution is the early promise for the lowest budget deficit in the longest period of time. Not to dampen it, but a budget is just that. It's not reality.
"It's positive that they've crunched the numbers to meet that target, but given our past experience it's a lofty goal and we should not promote that as the government having achieved it."
Mr Bowe spoke out after KP Turnquest, the deputy prime minister, in unveiling the 2019-2020 budget said the forecast GFS deficit of $137m represents the lowest amount of annual "red ink" incurred by the government over the past ten years.
He added that this sum, which strips out the government's debt principal repayments to measure only new debt, is equivalent to one percent of Bahamian economic output, which was hailed as the lowest deficit-to-GDP ratio since 2002-2003. It also meets the deficit target that the government is mandated to hit by law in the shape of the Fiscal Responsibility Act.
"This will be the lowest annual fiscal deficit recorded in The Bahamas in ten years. Also, our onepercent deficit-to-GDP ratio target will mean the lowest fiscal deficit ratio in this country in over 17 years. That is right, this will mark the lowest deficit ratio this land has seen in nearly two decades," Mr Turnquest said yesterday.
To achieve this, the government is pinning its hopes on increased revenue yields through its Revenue Enhancement Unit (REU), which will focus on enforcement and compliance from its formal creation on July 1 to coincide with the new fiscal year's start. The Minnis administration previously estimated the unit's work could yield an extra $80m-$100m annually for the Treasury.
This is forecast to combine with a full year of 12 percent VAT, after the hotel and construction industry transition periods ended in early 2019, and the settlement agreed with (some) web shops, to drive a $215m revenue rise year-over-year to $2.628bn in fiscal 2019-2020.
Mr Turnquest yesterday said this would increase revenue yields from 18.8 percent of GDP in the current fiscal year to 19.8 percent in 2019-2020, but the missed targets for 2018-2019 will likely fuel scepticism that over-aggressive goals could result in the deficit target being missed - especially since he admitted that Bahamian economy is not recovering "at the pace previously projected" due to slowing global growth
The deputy prime minister confirmed that revenues for the 2018-2019 full-year are now projected to come in some $238m, or 9 percent, lower than budgeted at $2.413bn due to the areas that the Government now hopes will drive its income in the upcoming fiscal year.
There are long-standing concerns that the Government's revenue and GDP growth projections have been too optimistic across successive administrations, with these frequently-missed targets contributing to widening nine-figure deficits until the Minnis administration reduced spending to match its income.
Mr Turnquest said total spending for the 2018-2019 fiscal year is also projected to be $259.1m or 9 percent down on original estimates, and will finish the year at around $2.642bn for recurrent and capital expenditure combined.
By reining in spending to compensate for the revenue miss, the deputy prime minister said the 2018-2019 fiscal deficit is forecast to beat the $237.6m projection by some $8.6m. It is now anticipated to finish the year at $229m, Mr Turnquest said, and is again in line with the Fiscal Responsibility Act's 1.8 percent of GDP target.
"These developments clearly signal that this Government is focused on more than merely talking about our plan to govern this country in the right manner, but also on action," he added. 
"Bringing our plans to fruition and realising the goals that we set forth for fiscal reform are critical priorities for us, as they underpin and, in time, will incubate our broader economic objectives of inclusive growth, a sustainable and resilient economy, and increased productivity. The outcome is a sustainable improvement in the well-being of all Bahamian citizens."
Comparing the Government's Budget projections to the prior year shows it believes it will take longer than previously estimated to eliminate the fiscal deficit. The Minnis administration had last year forecast it would run a $10m GFS surplus by 2020-2021, but yesterday's revised estimated project modest deficits of $73m and $19m for that year and 2021-2022 respectively.
An $85m deficit, rather than yesterday's $137m, had also been projected for the upcoming 2019-2020 fiscal year. The projections indicate the Government is making slower progress than desired on eliminating the deficit, but it is nevertheless heading in the right direction.
Mr Turnquest said recurrent spending for 2019-2020 is set at $2.53bn, equivalent to 19 percent of GDP and some $95m higher than the prior year. He added that some $100.4m will be allocated to pay-off the $360m in arrears the Government said it had inherited from previous administrations, in addition to the $172m due to be paid in the current fiscal year.
However, he warned that one obligation not currently included in the $360m pile is the unfunded deficit in the Bahamas Telecommunications Company's (BTC) legacy defined benefit pension plan. The Ingraham administration committed to inject $39m into a feeder trust to cover the deficit as part of BTC's sale to Cable & Wireless Communications (CWC) in 2011, but this sum was never paid.
Former prime minister, Perry Christie, said this obligation had ballooned to $62m and $99m in 2014 and 2016, respectively. Mr Turnquest yesterday said the Government has allocated $3m in the 2019-2020 Budget to start dealing with this as it works on a "multi-year" strategy to cover the balance.
Acknowledging that 2018-2019's capital spending budget "needs to be higher" than the $235m or 1.8 percent of GDP allocated, the deputy prime minister said it was still $28m higher than the $207m allocated for this fiscal year.
Pledging that the Government wanted to be "a better partner to the Bahamian people, he added: "It's about citizen empowerment, making government work for Bahamians instead of making citizens feel they're working for the Government....
"For too long, the Government has used taxpayers' money to feed a culture of political largesse and government inefficiency; to put band-aids over structural problems that undermine the Government's ability to play its true role. Structural reform certainly does not sound very relatable, but just think about what it is like to live in a house that needs to be renovated; to work in an environment that is falling apart. It blocks your hustle; it cramps your style; it saps your creativity; it makes you physically sick.
"The reality is, the Bahamian government is like a house that needs repairs. In some areas, the walls need to be gutted and the roof needs to be completely rebuilt. In other parts, new electrical wires need to be installed, along with new pipes and fixtures.
"The Government is not supposed to be a barrier to progress. Citizens are not supposed to feel constrained in the pursuit of their dreams by a government that does not have its house in order. The Bahamas has reached adulthood, and it is time the Government acts like it."