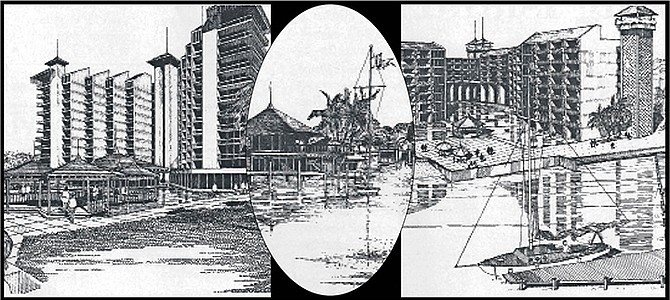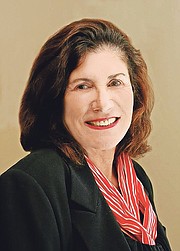 Out on a remote strip of road where the airfields of New Providence dwindle away and the land forms a T-junction with an extra arm, like a partially amputated roundabout, lies a subdivision called Coral Harbour. Two thick stone towers mark its entrance. Darkened by age, the towers guard what was once billed as the grandest dream of the Caribbean, a resort complex far ahead of its time with three hotels, including one with floating rooms. It would be surrounded by estates and lure those who yearned for a lifestyle with private yachts at their back door and a hotel ballroom for dancing just steps away.
But something happened to the Coral Harbour dream and no one can quite put their finger on what. Ownership changed and changed and changed again. Money to complete construction of the hotels came and went as one bankruptcy followed another. Headlines filled with new promises of fresh starts leapt off front pages. And the promises of hotels and luxury and a lifestyle so ahead of its day in the 1950s and '60s never did materialise.
Yet, the Coral Harbour dream, though faded, has evolved into one of the most fascinating, if lesser known, stories of places in modern Bahamian history. And those who live in Coral Harbour wouldn't trade it for the world. It was not the founders' dream, but it is their dream. Their vessel may not be a luxury yacht and it may not even have a working engine, but it's there alongside their dock. Next door may be a shiny new home, a two-storey mini-manse with manicured cashmere grass and designer landscaping and next to that, a yard strewn with rusting heavy equipment and parts, a jumble of metal and boats that will never set sail or see the sea again.
Homeowners are so proud to be part of the Coral Harbour legacy that in 2010 they turned out en masse at a town hall meeting to preserve their faded pink walls and those towers dating back to the 50s and to rally against new commercial development.
Part of what makes Coral Harbour such a captivating place is just that – its unpredictability, randomness, an enclave where casual reigns when everywhere else the very word enclave implies perfection. Look to your right and there is a brand new street with a still gleaming street sign. Andrews Boulevard it reads. It is blocked off by chain link fence, a pristine road that looks like it has never seen the bottom of a tyre goes nowhere. Sorry-looking political signs remain. There is the feeling that once something is planted in Coral Harbour, not much is going to move it.
Coral Harbour's dream most likely began with a man named Joseph Garfunkel, an Armenian Jew from New York married to a Roman Catholic named Cecilia. Their love affair with The Bahamas impacted sports and education in a fashion few immigrants to the country have ever equaled. A lover of sports, Garfunkel built the first baseball field, kept it meticulously maintained, in an area that is now known as Palmdale. The old John S. George would have been its infield. Boxing matches were held in the auditorium on Madeira Street named after him, now undergoing renovation after years of neglect.
According to one of the most trusted sources in Bahamian history, Paul Aranha (also a Tribune columnist), Garfunkel gained permission to build the Coral Harbour Road. For a short while, it seemed there was going to be a contest between the growing Lyford Cay, in its infancy and with a golf course built on the swamp and Coral Harbour with its vast canal system and access to the sea. Two prominent members of the Lyford Cay Club, Louis Bacardi and Peter Thompson, moved to Coral Harbour and Thompson remains to this day, more than 50 years later.
With infrastructure of roads and canals in place, by September, 1956, the first hotel was far enough along to announce a completion date of January 1957. Over the next six to seven years, the project had as many take-offs and hard landings as a small airport. Quick starts and short endings.
The names rattle on – Hemisphere Hotels with Robert M Souers as executive vice president announced a $32.2 million three-year build that would include more than 1,000 rooms. The dream was so widespread that a lone sailor with a dream of his own built a boat in the USSR with ingenuous parts for rigging, a sack of tomatoes, a tin of coffee and a small stash of homemade vodka sailed across the Atlantic to find his dream, a place called Coral Harbour that he read about in the 1963 Yachtsman's Guide that inspired his adventure. Years later that article inspired him to make his way across the ocean and at Coral Harbour canal long-time residents who were first to see his strange boat appear called me. I called Immigration, Customs, who took the sailor to his first Western-style grocery store and saw his eyes light up. His courageous voyage made history even as history was being made. He had sneaked out of a port on the south coast of the bitterly cold USSR in the dark of night headed across the seas to a magical place called Coral Harbour. By the time he arrived, the USSR was no more. Had he been home, he would have been in Ukraine.
The Coral Harbour Beach Hotel did eventually open but its history would be short-lived. Its doors closed in 1971 and five years later, the government announced that following an intense search for a base for its newly-formed Royal Bahamas Defence Force – a search that included Bayshore Marina on East Bay Street – the base would be located in the abandoned Coral Harbour Hotel. The government purchased the property the following year and its occupancy has been guaranteed ever since, an unintended consequence of the Coral Harbour dream.
All that ever came of what would have been the first floating hotel in the Caribbean were two houseboats, neither of which was particularly well-maintained. Aquatel remained a dream.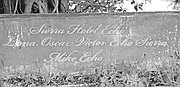 Something in the way it reads
Driving along Love Beach recently I spotted what appeared to be large, old-fashioned lettering on a wall. I pulled over for a closer look and was fascinated by the beauty of the script and chuckled at its meaning which from years of boating I recognised instantly – the nautical letters for She Loves Me. (Sierra Hotel Echo: She, etc.) And then I remembered that the Beatles hung out in these parts for more than two weeks while they were filming the movie Help and later. The Beatles version was She Loves You, not She Loves Me, but somehow, I couldn't help linking the Beatles, the lyrics, timing and mysterious wall together. So, like a few weeks ago when I asked if anyone knows anything about how a road between a cemetery and a seminary got the name Lovers Lane, let me know. And sure enough they did. So if anyone out there has any idea about this beautiful wall that deserves preservation, please share. You can email me at diane@dpa-media.com or whatsapp at 376-2177.