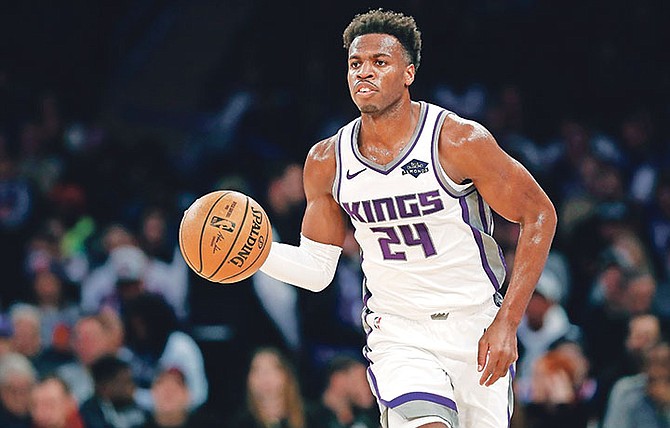 By RENALDO DORSETS
Tribune Sports Reporter
rdorsett@tribunemedia.net
AFTER an 0-5 start to the season, Buddy Hield and the Sacramento Kings have won consecutive games.
Hield scored 22 points (8-16 FG, 5-11 3Pt, 1-3 FT), four rebounds, one assist, one steal and a block across 30 minutes in the Kings' 113-92 win over the Knicks on Sunday.
Following the game, he also addressed a group of aspiring Caribbean student athletes from the Digicel NBA Jumpstart Elite Camp as part of their New York experience.
Participants attended two NBA games, toured NBA facilities, visited local New York City landmarks, and took part in basketball training and life skills sessions.
"Im trying to be a guy where we're from to show that if I can do it, you can do it, after you do it, somebody else follows and it just trickles down the line."
Expectations loomed large for a Kings team that won 39 games last season.
At the conclusion of a 118-111 loss to the Charlotte Hornets on October 30, Kings fans at the Golden 1 Centre in Sacramento booed the effort of their home team.
"I know fans are frustrated right now. They're booing us and everything. I know when we get this thing rolling, they're passionate, so we've got to finally get a win," Hield said. "It's Sacramento, man. They're die hard basketball fans and I respect that. If my team's not doing well, I'd boo them too. You can't take it harshly because we're sucking right now. They're passionate fans. I know they love us for sure, but we're not winning so they're showing their frustration."
Under new head coach Luke Walton, the team has got out to a slow start and has also been hampered by an injury to 2018 No.2 overall pick Marvin Bagley III.
"It's not the coach's fault," Hield said. "I think the players take the blame for it. It's on us. We take full responsibility for that and I take full responsibility for that too, because as a team leader you have to be ready."
Through seven games, Hield is averaging 17.1 points, and 3.7 rebounds per game. He is shooting 40 per cent from the field and 38 per cent from three-point range.
The Kings continue their road trip Wednesday night against the Toronto Raptors at the Air Canada Centre in Toronto.