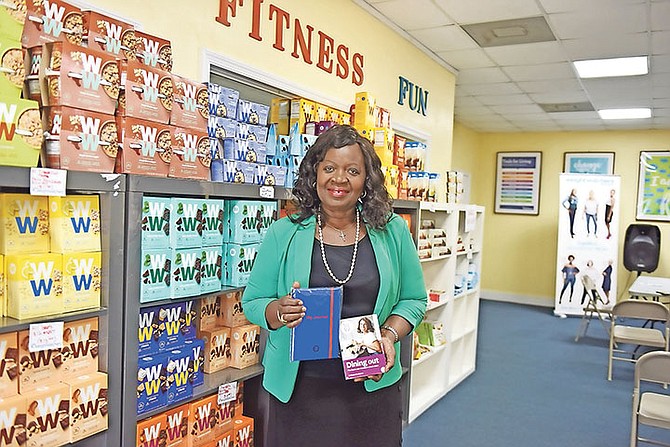 By CARA HUNT
Tribune Features Writer
cbrennen@tribunemedia.net
Over more than 30 years Lydia Ferguson has helped thousands of Bahamians lose weight in her role as president of the local Weight Watchers support group.
Ms Ferguson said she is the only black franchise owner within the multi-billion dollar international company, and is now poised to help people continue their weight loss journey as Weight Watchers rebrands itself with its new campaign: "2020 and Beyond – Weight Loss and Wellness Vision."
Weight loss has always been a big part of Lydia's life, even as a child growing up in Ghana, West Africa.
"I was always an overweight child. Growing up, people always referred to me as the biggest one of my parents' children. My weight held me back, especially when it came to athletics; I was picked last for teams. I grew up in Ghana and obesity was always considered something that only happened in affluent countries," she said told Tribune Woman.
Lydia moved to England to attend law school. There, she did lose some weight. She also met her husband, Bahamian Arnold Ferguson. After moving to the Bahamas, her weight continued to fluctuate, especially after the births of her children.
She started her first support group while living in Andros after her first child was born.
"I felt that I needed to have the support of other persons to help me with the weight loss," she explained. "We would meet at the North Andros High School and encourage and motivate each other."
She got the idea to bring Weight Watches to the Bahamas after she was forced to continue wearing maternity clothes after the birth of her second child.
"My weight forced me to go to court in a maternity dress when I was not pregnant. That became the last straw that broke the camel's back. I saw the need for me to help myself and help a lot of overweight people in the Bahamas lose weight by bringing Weight Watchers to the Bahamas," she said.
Weight Watchers International is a global company headquartered in the US that offers various products and services to assist in healthy habits, including weight loss and maintenance, fitness, and mindset, such as the Weight Watchers comprehensive diet programme.
Founded in 1963 by Queens, New York City homemaker Jean Nidetch, as of 2018 it delivers its programme in three combined ways: online via its mobile app and website, coaching online or by phone, and optional in-person meetings around the world.
Ms Ferguson noted that the reason Weight Watchers continues to be effective is that it focuses on healthy lifestyle choices, rather than easy fixes which won't see permanent results.
"I have been doing Weight Watchers for 32 years this coming January and it has been amazing to have been a part of the thousands of Bahamians being able to not only reach their goal weight, but also keep the pounds off," said Lydia.
Weight Watchers, she said, is realistic in that it helps you to establish a lifestyle, and because it becomes a way of life, it is much easier to maintain in the long term.
"You modify your behaviour. Because you will go to parties, you will go on vacation or eat out at restaurants, and so Weight Watchers equips you to handle those situations," she said.
"Bahamians love to eat certain things and we tell you, you don't have to eliminate those items, just find creative ways to make them a more healthy option. For example, you can make grits and half the recipe and add pumpkin to it. Often we cook things because our mother and our grandmother cooked it that way and we do it by habit, but you can mix things up."
While Weight Watchers' primary focus is to encourage participants to follow its point system, it is also focused on encouraging people to exercise as well.
"We encourage persons to just get out and move. It can be going to gym, walking, dancing, just get out there and move and every bit will add up," she said.
Having the support of others going through a similar journey, Lydia added, is another part of the organisation's appeal.
"When you come to the meetings you get tips that can help you as well as just having friends who become like family support you. We have a member who has been with us for 30 years and is 89, who still attends meetings because she has grown so close to the members in her group," she said.