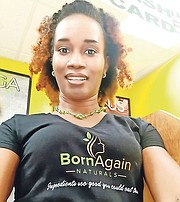 By ALESHA CADET
Tribune Features Reporter
acadet@tribunemedia.net
It all started one night in 2014 as Rennae Sweeting was researching sleep solutions for her toddlers Azariah and Nathan. Through Google and other websites, she stumbled on what she calls the world of natural living.
"I was shocked as I discovered how newborns are born with almost 300 chemicals in their blood and how toxic the products we used were. I found out that our skin is our largest organ and absorbs 60 percent of everything we put on it in 26 seconds. Many of the products we used daily were linked to diseases like infertility, cancer and Alzheimer's. I had to do something with this information and decided that change begins with me," said Ms Sweeting.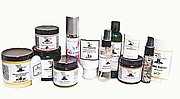 Not wanting to continue using potentially harmful store-bought skin care products, Rennae launched her own brand of products called Born Again Naturals, a cosmetics line that specialises in hair, skin and body care products made from natural and organic ingredients.
Born Again Naturals, located in The Soap House in South Westridge, offers everything from lip and body balms to Toothpaste and deodorants. Rennae said the all-organic products are ideal for people suffering with eczema, acne, sunburn or ingrown hairs.
"Our products are carefully crafted in the Bahamas with little to no changes to the ingredients in their original form, to harness the full potential of each for the hair and skin. Here on the islands of the Bahamas we have a wealth of organic ingredients like coconuts, neem, moringa and other local herbs and fruits. These are used, when possible, and other ingredients are sourced in larger quantities from reputable companies overseas when needed. We believe that natural and simple is better," she said.
Rennae said she feels it is her mission to spread awareness about the toxic ingredients in conventional skin care products and the diseases linked to them.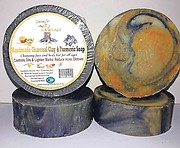 "Born Again Natural's initial 12 months was spent formulating various products and giving out samples. This time was also spent gathering reviews on the effectiveness, packaging and the stability of the products. The next phase was expos, exhibition and trade shows where we got to meet with the masses and bring about awareness to our brand. The word conglomerate comes to mind, as we intend to distribute worldwide and have several product divisions like organic make-up, organic laundry, organic household cleaning, organic hair care, organic skin care, and organic body care," she said.
She said she is thankful for the overwhelming feedback she has received thus far, including from mothers who noted their babies have finally been able to sleep through the night without scratching and crying due to eczema.
"When I first got started I could not find natural and affordable options locally for use. They were either fake or too expensive. Many years later, other companies have created similar items that in some cases are natural and just as effective. This has created a greater awareness in the Bahamas about healthy skin care which has created a greater demand and now an additional revenue stream for many offering similar products," said Rennae.
For the remainder of the year, her plan is to partner with more local stores to have greater availability of her products nationwide.