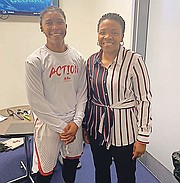 By RENALDO DORSETT
Tribune Sports Reporter
rdorsett@tribunemedia.net
The 2019-20 NCAA Division I basketball season tipped off Tuesday night and Bahamians were figured prominently for their respective programmes both on the sidelines and on the floor in various conferences across the United States.
The Ole Miss Rebels women's team dominated in their season opener in the second year under head coach Yolett McPhee-McCuin and newcomer Valerie Nesbitt.
The Rebels defeated Mississippi Valley State 72-53 at The Pavilion in Oxford Mississippi.
The Rebels (1-0) shot 47.1 per cent in the second half after a slow start, eventually forcing the Devilettes (0-1) into 27 turnovers and a 35 per cent clip from the field.
Nine of the 10 Rebels that saw the court scored on Tuesday, and the Rebels offence was efficient, recording an assist on 20 of 30 made field goals.
"Good to start the season off with a victory. As you can see, we're a young team, so the goal is to just continue to find things that we can get better at every game and focus on those things," McPhee-McCuin.
"We want to limit our turnovers, and that is still not where we want it to be. With a group trying to figure themselves out, I think a legitimate turnover number is aout 15 right now, until we start to figure out who we want to be on a consistent basis. "We want to get to the free throw line more and we want to make them. Val is going to have opportunities from the free throw line so she has to make them and we have to focus in on that. We just have to continue to grow and mature. We really have to focus on defending at a higher level and understanding that that is going to be our identity."
Nesbitt, the junior transfer from Chipola Junior College, finished with six points, five assists and three steals. She shot 2-7 from the field but was just 2-6 from the free throw line.
Ole Miss lost three seniors from last year's team and welcomed a talented group of newcomers.
"A lot of this team is young or new so we just have to be patient with them and help them through it," McPhee-McCuin added. "This team is a work in progress, that will only get better in playing time but we have to figure that out quickly and as a coach I have to figure out lineups that work well together."
Last season, the Rebels finished 9-22 - 3-13 in Southeastern conference play. They were eliminated in the opening round of the SEC tournament but the season was highlighted by the first ranked road win for the Rebels since 2011 when they defeated the Kentucky Wildcats for the first time since 2007. In the offseason, she signed an extension that will run through the 2023 season.
Radshad Davis and the Texas-Arlington Mavericks also opened their season with an 84-50 win over the Texas-Dallas Comets Tuesday at the College Park Center.
Davis was perfect from the field and finished with eight points on 3-3 shooting from the field and 2-2 from three-point range. He also added five rebounds in just eight minutes.
UTA took a 37-21 halftime lead before shooting 56.3 per cent (18-32) from the field in the 2nd half to cruise to their sixth-straight victory to open a season.
Seven different Mavericks made a 3-pointer on the night as UTA shot 40.5 per cent from long distance, tying for the 3rd-most 3-pointers made in single-game programme history by going 15-37 from behind the arc.
"Our returners did a really good job of setting the tone for our new guys from the beginning. That allowed us to get some momentum and we were able to stretch the lead heading into halftime (8-2 run over the final 2:20). In the second half we were able to get some rhythm and confidence on the offensive end, and that's something we've been working on all summer and fall," head coach Chris Ogden said.
As a junior last season, Davis averaged 8.1 points and 5.5 rebounds per game in 33 appearances.
Kai Jones played just five minutes and grabbed three rebounds in his collegiate debut - an opening night win for the Texas Longhorns in a 69-45 rout over Northern Colorado.
Graduate transfer Shaquillo Fritz made his debut with the Pacific Tigers and finished with two points and two rebounds in a 69-47 win over Stanislaus State.
Meanwhile in the Sun Belt conference, freshman Ahmard Harvey was not as fortunate in his debut as his Coastal Carolina Chanticleers suffered a 75-74 loss to Campbell.