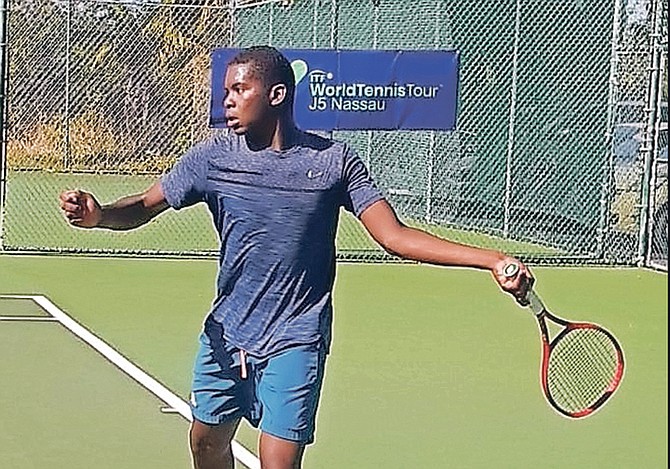 By BRENT STUBBS
Senior Sports Reporter
bstubbs@tribunemedia.net
Jacobi Bain held off Canadian Andreas Petsalis to win his boys' opening singles match in the Bahamas Lawn Tennis Association's Goombay Splash Junior Tennis Tournament at the National Tennis Centre.
As one of the two Bahamians playing in singles on day two of the tournament yesterday, Bain, playing at the number two seed, survived with a 6-3, 6-4 win over Petsalis.
Unfortunately, Sierra Rodgers, the only Bahamian playing in the girls' singles, suffered a 6-0, 6-0 loss to American Brooklyn Olson, the number two seed behind Bahamian top seed Sydney Clarke.
Bain, the taller southpaw, admitted that it wasn't his best performance, but he was glad to secure the win and stay alive in the week-long tournament that will wrap up on Saturday.
"The match was pretty good. When I started off, I felt I was playing pretty decent," Bain said. "As I went into the match, I felt I started playing a lot better."
In the first set, Bain said he got off to a great start, but got a little complacent as Petsalis got back into the match.
On a break, Bain went up 4-2 and he got another break at 5-4 as he held for the 1-0 lead.
In the second set, Bain also jumped out to an early 4-1 lead, but watched as the Canadian got his only break for a 4-2 deficit. They both held serve the rest of the match.
"I expect to play much better in my second match than I played today," said Bain, who is scheduled to face American Rohan Gold, who also won his first round match yesterday, beating China's Peng Hou 6-0, 6-4.
Bain, 16, admitted that there's no greater feeling than playing at home before the crowd, but there's still a lot of pressure to win.
Sitting back comfortably and waiting to play her first round match when the tournament continues today is Clarke, the top Bahamian junior player who celebrated her 18th birthday on Monday.
"I am very confident. This is my last junior tournament for the year so I've been preparing for this for a while," said Clarke, who also hopes to end her junior career on a high note.
"I've been practicing for a while and I'm just eager to get out there and put into play what I have been doing in practice."
Having to watch the first two days of competition was a bit nerve-wrecking for Clarke, but she said she intends to be "focused and mentally sharp" to play her first match today.
"Everybody is on the same level, to me, so there's no one outstanding than anyone else," Clarke said. "So anyone has a chance. I just think who is more determined will win."
And while she celebrated her birthday scouting her opponents at the NTC, Clarke said she's hoping that she has a big party to enjoy her success this week in the tournament as well.
Also looking to complete his junior career on a winning note is Donte Armbrister. The No.3 seed in the boys' singles won his opening match 6-2, 6-1 over China's Penghan Zhang.
"It was good. It's always good to play in the front of the home crowd. I just hope that I can do very well in this tournament with this being my last tournament for the year and as a junior. So I hope to go out with a good tournament," he stated.
The 18-year-old member of the Bahamas' 2019 Davis Cup team said there's a lot of different players participating in the tournament so he just has to play his game and he can be a contender for the title.
"There's no pressure," he said about playing at home. "I'm ready to give it my best."
Mickey Williams, the ITF's supervisor for the tournament, said there were a total of 80 players from 12 countries that started playing in the tournament with the majority coming from the United States of America.
"We had 15 Bahamians, three of which were seeded," he said.
"We had Sydney Clarke, who is the number one seed in the girls' singles, Jacobi Bain, the number two seed in the boys' singles and Donte Armbrister, the number three seed in the boys'.
"We still have about five Bahamians left in the main draw in the singles.
"The majority of the others got eliminated on the first day on Monday. So the tournament is going very well."
Results from Monday's first day of the main draw are as follows:
Boys singles
Matias Gaedechens (1) def. Charlie Cowan 6-1, 6-0; Denali Nottage def. Alec Turcotte 7-5, 6-3; Cyrus Mahjoob def. William Kesterson 6-2, 6-4; Yannik Rahman (6) def. Kirtan Patel 6-0, 6-2; Donte Armbrister (3) def. Penghan Zhang 6-2, 6-1; Ian Dover-Mattinen def. Connor Coleman 6-1, 6-2; Shu Matsuoka def. Anthony Burrows 6-2, 6-1; Andy Hernandez (7) def. Zoran Stastny 6-1, 6-1; Samuel Reichbach (5) def. Daniel Clivio 6-3, 6-1; Maxime Navrotchi def. Kofi Bowe 6-4, 6-1; William Bartram def. Luca-Julian Hotze6-0, 6-4 and Boris Stastny (4) def. Ryan Alexander Fox 6-1, 6-1.
Girls singles
Muduo Zhou def. Safija Nizamic 6-0, 4-6, 6-3; Kennedy Gibbs def. Fotini Salpadimos 6-0, 6-0; Sophia Wang def. Artemis Pados (5) 6-3, 6-4; Catherine Denysiewicz-Slowek (4) def. Isabella Saul 6-1, 6-3; Jeanne Marie Gearity def. Kaylee Kanuka 6-4, 6-4; Lauren Chisholm def. Kinza Johnson 6-0, 6-0; Sage Loudon (6) def. Genesis Whitelock 6-0, 6-4; Lindsay Zink (7) def. Genesis Missick 6-0, 6-0; Peyton Anderson def. Kristin Major 6-1, 6-1; Mia Garber def. Gabrielle Simms 6-4, 6-0 and Maya Battle def. Elana Mackey 6-1, 6-4.
The tournament continues at 9am today.