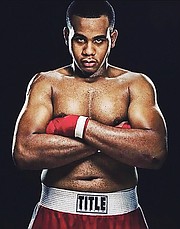 By RENALDO DORSETT
Tribune Sports Reporter
rdorsett@tribunemedia.net
PREPPED for his final fight of the year this weekend, Amron Sands has plans for major career developments in 2020 thanks to further progression with DiBella Entertainment.
"We are closing out the year strong with this fight and hopefully going for first belt in the new year," Sands told Sidestep Boxing. "They have some good stuff in store for me."
This will be his second match in a three-month span under Dever Sports Management and DiBella Entertainment following a nearly six-month layoff.
"It shows that you're moving forward and progressing in your career, knowing that those kinds of people are watching you," Sands said on his signing with the group.
In a heavyweight matchup between two former basketball players turned boxers with undefeated streaks on the line, Sands will face Raphael "The Nigerian Hurricane" Akpejiori of Nigeria at "Rumble In The Bay" November 23 at the Bryan Glazer JCC Center in Tampa, Florida.
"He's undefeated as well, so someone is getting their first loss," Sands said. "And it won't be mine."
Akpejiori, a former basketball and football player for the University of Miami Hurricanes, comes into the fight undefeated at 5-0.
Standing at 6'8 and 240 pounds, Akpejiori set a self imposed timeline to become the world heavyweight champion in four years.
Currently with a record of 9-0 (8 KOs), Sands last fought on August 23 against American Thomas Hawkins, when he scored the knockout one minute and nine seconds into round two at the Bryan Glazer JCC Auditorium in Tampa, Florida.
"He actually came to fight. It was good. I knocked him out," Sands told The Tribune after the fight.
"As the fight progressed, I saw more opportunities for me to go inside and work on him. I just threw the over-hand left and the right uppercut and he fell."
Under Kevin Dever Sports Management, Sands joined DiBella Entertainment as the latest addition to its roster of heavyweight prospects.
"I signed with DiBella Entertainment because Lou is one of the most trustworthy promoters in boxing and he has great relationships in the business to get my name out there. I know that with his guidance, I can become the heavyweight champion of the world. I can box and I can bang and I'm what the heavyweight division needs. I'm very excited about my future and am ready to put in the work," Sands said.
"I can do it all. I can box, but I favour brawling because it shows who has the bigger heart. No one has a bigger heart than me. I just need to listen to my team and let Kevin do his job. I'll do mine and we can make it to the top."