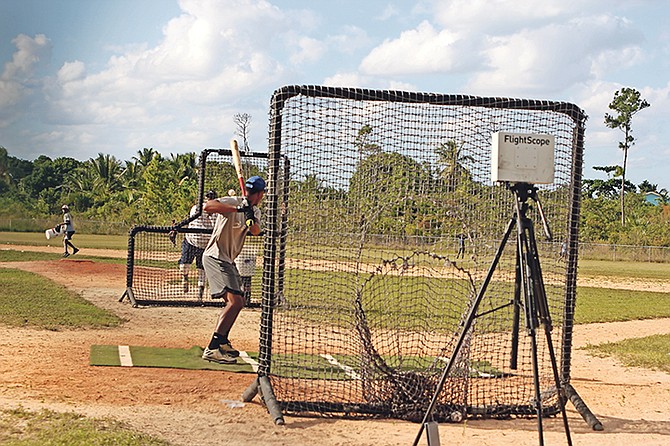 By RENALDO DORSETT
Tribune Sports Reporter
rdorsett@tribunemedia.net
DATA analytics continues to revolutionise the game of baseball and one local organisation seeks to use technology to equalise the playing field for its players in their recruitment process.
International Elite Sports Academy will now utilise Flightscope Strike technology in partnership with DS Sports Ventures and Baseball Cloud to accurately track and build portfolios of the country's expanding list of baseball prospects.
Cliff Terracuso, president of scouting and programme development at DS, was on hand at the Pinewood Baseball Field as I-Elite launched the programme.
Terracuso scout for Texas Rangers Baseball from 2011 – 2019 that included areas of Central Florida, South Florida, Puerto Rico and the Caribbean.
Flightscope is a 3D phased array tracking radar which provides data analytics for hitting and pitching.
"We wish we had this data when some of the other Bahamian players were coming through so we would be able to say definitively, 'this person has the same exit velocity average' as another player at age 14. Data doesn't go stale, it doesn't go bad so as we are able to collect more data we can make an apples to apples comparison.
There have been situations where I have been in a room and I have been trumped on a player based on data and guys specifically from the Bahamas had that ability, but there just wasn't enough data to support that," he said, "What
I-Elite is doing by having the machines and these capabilities - having the flightscope, having the Diamond Kinetics sensors, having the film and baseball cloud scrubbing the data for them and making it presentable, there's really no other country in the region
doing that right now so they are at the forefront of it in the Caribbean right now. There will be more countries that jump on board with it once they figure out what's going on here. It's the ability to say, 'my son is 16 years old, this is his average exit
velocity, this is his average distance. We practice everyday here so there are thousands of swings and we know what his numbers are' It eliminates the guesswork. The numbers assist scouts and will separate and show the difference between the two players. It'll
be fun to see how their numbers stack up against other kids from all over the world."
Baseball
Cloud then provides the platform to produce the data for consumption allows players to consolidate and store their data over the course of their career. The software also allows players at all understand their data through key metrics and custom visualization
tools. all levels, e
"I
work with the analytical department for over 70 schools and recruiting part of it for most data analysts, this is new. Every one that I have talked to that is in their search for players, they all want a machine, they all want access to the data.I would say
in the next 5 years every division one programme will have a machine, at least half of division twos and some of the premiere juCo's," he said, "You're able to have a kid come into your testing site, give everything, receive your metrics and use that as your
own recruitment tool whether you're apart of this academy or not. The athleticism this island has is second to none, these kids are organic players and the more athletic you become. So, it's a coaching tool as well in constructing players swing and figuring
out the best movement overall. Back in the day coaches would just move you around in the batting cage and listen for the sound and pop off the bat, but now you have data and the metrics to figure out the holes as a baseball player. The numbers tell you what
you have to go and correct."
International Elite Sports Academy recently looked to extend
its reach into the academic recruitment field to facilitate the development of prospective student athletes. The group has also partnered with certified athletic and academic college recruiter Kim Sweeting to form I-Recruit.
Sweeting
said that I-Elite plans to make the technology available to all youth baseball players and coaches in the country through several outreach initiatives.
"We're
now able to go to colleges and present the data and show them the ability of the kids here in the Bahamas. This seemed like the right way to go because it has everything we need to advance these kids with what we're doing through baseball.
Schools
have been asking about data in addition to the standard questions like grades but for us it was just the next step, but it just gives us another means of promoting and providing opportunities for these guys," Sweeting said, "We are really focused on the kids
that are passionate about this. They want more importunities in baseball whether its going to school or playing professionally. We're kind of gearing and the company is geard toward the needs of these athletes.
While the group has consistently guided their I-Elite athletes
to minor league contracts in recent years, they came to see the need for athletes to have the opportunity to also be able to attend the college or universities of their choice.
I Recruit has reportedly partnered with several institutions
in the United States and has a network of over 1,300 colleges and universities.
"We use these relationships to personally communicate with
the college coaches and get our I-Elite prospects identified and actively recruited. We know what college coaches are specifically looking for in upcoming recruiting classes," the organisation said in a press release.
"This knowledge allows us to put our prospects in front of
colleges that are realistic for each prospect. We are hands on. We are at events and our careers are based on the trust and relationships that we have developed with college and universities while being completely honest with everyone involved in the process."
Last
May, James Rolle was the latest Bahamian to reach
an agreement with a Major League Baseball franchise through I-Elite when he signed with the Baltimore Orioles.