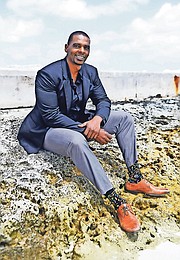 Health coach Ethan Quant, of Elite Wellness Solutions, has succeeded in his weight loss journey and now wants to share his methods with the Bahamas in an effort to foster a culture of wellness and conquer the obesity epidemic.
We all know the saying, "Age ain't nothing but a number". That's so true for many aspects of life, and sports and fitness are no exception.
Taking part in sport and fitness activities on a weekly basis is important for everybody, no matter how old or young you are. Of course, it becomes increasingly important to remain active in our older years in order to remain fit and healthy.
The National Health Society reports that a lot of adults over the age of 65 spend around 10 hours a day either sitting or lying down, and this lack of activity is causing serious health problems. This lack of mobility can cause you suffer from aches and pains when doing simple things such as walking through the house, as a lack of energy takes over. People who remain active have a lower risk of heart disease, strokes, type 2 diabetes and dementia.
When I think of age and sports and fitness I automatically think of the inspirational story of Ernestine Shepherd. She is a personal trainer, professional model and competitive bodybuilder, and she is 79-year-old.
I also think of local bodybuilding champion Sydney Outten, who is also over 75 and is an active competitive bodybuilder. I had the privilege of being his teammate on Team Bahamas several times during my bodybuilding days. I am sure that there are other example of older athletes in other sports who are still killing it, but bodybuilding is my sport so I am most familiar with them. If you don't know these two awesome individuals I would encourage you to look them up.
So if you are older or have family and friends who are older, encourage them to be more active. Some sports that are perfect for the elderly include:
• Swimming clubs
• Walking soccer groups
• Squash
• Table tennis
• Golf
• Cycling
Sports and group fitness for seniors has an array of both physical, mental and emotional benefits that can drastically improve their health and quality of life. So let's get active and stay active regardless of how old or young we are.
• You can contact Ethan Quant at ethan@elite-wellnesssolutions.com or on Instagram at @ethanquant.