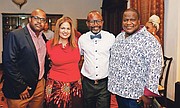 Don't text and drive, don't drink and drive, wear a helmet, control your hypertension and stress. These statements may all seem like such cliché directives – directives which are often ignored until there is a collision or sudden rupture in the brain. And then instantly these cliché statements unfortunately turn into "If only he or she had or had not…"
November 16 marked the official launch of the National Brain Injury Foundation. It is a vitally needed and desired support system for people battling common brain associated illnesses.
The launch event was held at private residence at Ocean Club Estates, Paradise Island. The venue was elaborately lit and draped in royal blues and whites – the official colours representing brain injury.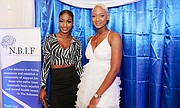 In attendance were some very well-known names, such as paediatric surgeon Dr Ashani Knowles, founder of both the Meridian School & Windsor School at Albany and Old Fort; Lisa McCartney, Auditor General Dr Richard Demeritte; Jason McCarroll of McCarroll Realty, and Gandhi Pinder, owner of Sapodilla and Bamboo Shack restaurants, just to name a few. Corporate Bahamas was well represented and showed to support of yet another worthy cause.
As the guests chatted, danced, and enjoyed the libations, artist Stefan Davis provided live painting as a special feature of the event. When it was finished, the piece showed a woman of colour, depicted in black and white with a colourful afro. Titled, "Beauty is Nothing Without Brains", the painting was then entered into a silent auction. Proceeds from this auction will go towards the Foundation's programmes. The successful bidder, Dr Kevin Bowe, medical director of Colina Insurance and Walk-in Clinics, was awarded the piece by the Foundation's founders. There were also on-site donations provided in addition to pledges.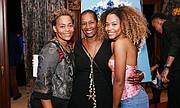 Also in attendance at the launch event were co-founders and trustees: Professor Dr Magnus Ekedede, Drs Melissa Evans, Rebecca Ekedede and Mitchell Ekedede, who promise the Foundation will be a strong financial backbone for people affected by brain damage in the Bahamas, be it traumatic or acquired cases. The Foundation's core aspirations include the forming of an international rehabilitation centre that will provide patients with not only state-of-the-art equipment, but give them the opportunity to return to their absolute best pre-disease state.
With cancer being the topmost sponsored illness in the Bahamas, and AIDS and cardiac disease closely behind, it leaves a grave lack of support for key, widespread issues that effect the brain, including cerebrovascular accidents (CVA) or strokes.
The brain controls every single element within the body, entering this space then, is not only costly but comes with a significant level of risk and is heavily on par in both cost and risk to open heart surgery. Most individuals cannot afford the care, which can easily amount to $400,000 plus per year and requires a variety of variables such as the right doctors and medical team, specialised rehabilitation and family or emotional support. Without these core requirements, many find themselves seriously disabled or even dead.
The Foundation's primary vision is to bring to the attention of the general public methods of prevention of brain injuries and to establish a community of support for those who suffer from traumatic brain and spinal injuries, inclusive of mental health issues, and lastly to keep brain injury awareness current and in the forefront of national conversation.
Most everyone in the world has been or has had a family member affected in some way by brain disease. Some of the more common ones are ALS, Alzheimer's, Parkinson's, dementia or memory loss, autism and other neuro-developmental related disorders, seizure disorders, chronic headaches, sleep disorders, stroke and vascular diseases, brain and spine trauma caused by an accident of some kind, MS and autoimmune diseases, and tumours. Many people don't even realise that a condition they have is classified as a brain disorder. There are even cases of brain illness brought on by non-compliance to prescribed medications.
The National Brain Injury Foundation was principally created by Professor Dr Magnus Ekedede, a world-renowned neurosurgeon whose achievements include performing the first ever lobectomy in the Bahamas and being the first to perform brain and spine surgery in the Turks and Caicos Islands.
Both Dr Ekedede and Dr Evans expressed their gratitude to those that attended the launch. They spoke about how the heartbreaking reality of having to watch as a patients lie helpless, battling brain illnesses and injury knowing they have no money or insurance to facilitate their health management and rehabilitation. This is what inspired the initial conversation of creating the National Brain Injury Foundation. There were many in the audience who were able to speak about stories of loved ones passing in the fight of a brain injury and disease. Mr Andrae Evans, a trustee of the Foundation and a speaker, is a survivor himself. He was open about having had the very best emotional support, financial backing and healthcare possible, but still being challenged daily.
Those interested in supporting the National Brain Injury Foundation can make a one-time gift or establish a recurring gift of weekly or monthly support. Donations are accepted online at www.nbifbahamas.com. Others may choose to make a check payable to the National Brain Injury Foundation at #52 East Bay Street. Other methods of support include the provision of stocks or securities. To make any of these pledges, interested patrons may e-mail NBIFBahamas@gmail.com or call 326-0171 or 557-3146.