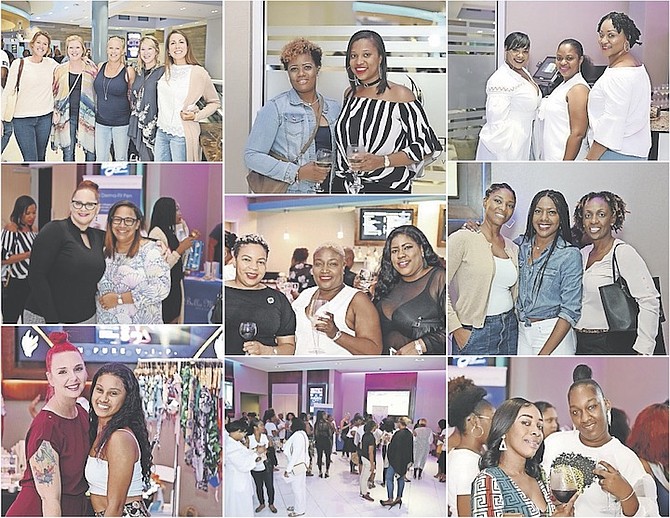 By JEFFARAH GIBSON
Tribune Features Writer
jgibson@tribunemedia.net
It was very welcome break from the ordinary for the women who attended the second themed ladies' night event at Fusion Superplex featuring the critically acclai≠med movie "Hustlers" starring Jennifer Lopez, Cardi B and Lizzo.
Centered around an exclusive screening of the movie, the 'Ladylike' evening brought together women from all walks of life in a spirit of much-needed togetherness and good, clean fun. Starting with a casual photobooth experience by Shotz Photobooth, guests entering the elegant, adults-only Pure VIP Lounge also enjoyed offerings from vendors like the Bella Mente Salon & Spa and Silver Thatch/Abaco Lifestyle. The Cheeky Intimate Apparel Boutique also featured prominently. With wines provided by 120 Santa Rita, a Commonwealth Brewery brand, and the infectious energy of the Girl on Pole Dance Studio, the pre-show amenities inspired a positive atmosphere.
"When it was time for the movie to start our guests enjoyed the luxury treatment of a VIP that only Fusion can provide, complete with blankets, reclining leather seats and butler service. Many of our guests praised the 'wine and dine' experience from start to finish,' said Chief Marketing Officer for Fusion Superplex Nikolette Elden.
Takiyah, who attended the event with her several of her girlfriends, decided to get all dressed up in white for event.
"You would think one of us was celebrating a birthday this weekend, but that is not the case. It's about seven of us that came out and we are just here to have a good time. Something I really don't get to do often, as I am always busy. When it's not the kids, it's the jobs I have. I think it's important to make leisure a part of your schedule. Squeeze it in somewhere and I'm sure you will feel better. I will definitely be back for sure," she said.
Kayla, who had been a bit hesitant to attend 'Ladylike' as it took place during a weekday, said she decided to bite the bullet and head out to Fusion anyway. She was glad she did.
"I don't usually go out during the week, but I am glad I took my sister up on the offer to take me out. It is a great night out in good company. Nothing too loud and nothing too boring. The movie was about tricky strippers so the organisers really portrayed the theme. Girl on Pole was my favourite part of the evening. Instructors took the time out to teach us a thing or two. And we enjoyed ourselves even before watching the movie. This is definitely something I'd get into again. Maybe I'll take my sister out to the next one," she said.
Ms Elden said based on the success of 'Ladylike', there is a lot of demand for more events on the entertainment landscape.
"We look forward to building on the success of this event and others for the benefit of the people that we serve. In keeping with our vision of strengthening communities, Fusion Superplex continues to extend the invitation to reputable Bahamian establishments to be partners with us in future 'Ladylike events'. Additionally, our mission calls upon our organisation to offer our customers the perfect escape from everyday life, even if just for an evening. Against the backdrop of national tragedy, Fusion Superplex sees fulfilling our vision and our mission as an especially timely endeavour," she said.
Fusion's next 'Ladylike' event is set for October 17. The movie for the third ladies' night will be "Maleficent – Mistress of Evil" starring Angelina Jolie and Michelle Pfeiffer.