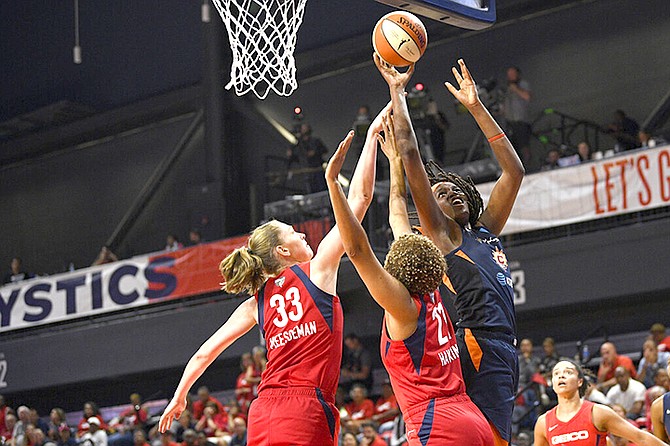 By RENALDO DORSETT
Tribune Sports Reporter
rdorsett@tribunemedia.net
IT was an historic night for Jonquel Jones as she inked her name into the WNBA record books as one of the league's top performers in finals history.
Jones finished with 32 points and 18 rebounds in her Connecticut Sun's 99-87 win over the Washington Mystics Tuesday night.
The first player in WNBA playoff history with at least 32 points and 18 rebounds in a game, she also had the most offensive rebounds in WNBA Finals History (9) and second-most total rebounds (18). Her 32 points were the most in a Finals game since October 5, 2011 when Atlanta's Angel McCoughtry had 38 pts and Minnesota's Seimone Augustus had 36.
"Yeah, I think I just got on the offensive glass a lot, and that allowed me to really get everything else going. Obviously my teammates were looking for me, and we talked about getting me the ball more in Game 2, and I just wanted to deliver. But honestly, I just want to keep my confidence. I feel like people think it dwindles, but it doesn't, and I believe in myself, and I know my teammates believe in me."
In a game one loss, Jones finished with just 12 points on 5-8 shooting and failed to record a single offensive rebound. She also discussed the delicate balance of playing with four fouls late in the fourth quarter, and staying on the floor to help the Sun withstand a late rally.
"It was huge, honestly. I felt like in Game 1 I was in good position, but these people weren't missing like that, so it was tough," she said, "Just being smart and understanding that I need to be out there on the court. I think I kind of got a little too caught up in trying to get the blocks and swinging versus staying straight up, and I think that's how I got the fouls. So just being smarter, coming out there and understanding that it was a tight game and I needed to be on the court. "
As a team, the Sun tied for the most players with 20 or more points with three - Jones, Alyssa Thomas and Courtney Williams.
"Man, JJ was going crazy today. I told her, I felt like I could pull the ball from half court and she was going to look out for me and get the rebound," Williams said, "That's huge when she has that mindset to go get every ball, every rebound. So that was huge for us."
Said head coach Curt Miller said his team made immediate adjustments following the game one loss, most importantly, finding more shot opportunities for Jones.
"Proud of that group. They brought to the table as players some adjustments that they wanted to make from Game one to Game two. We fed off their confidence and belief to make some subtle adjustments that worked for us. Ultimately, at the offensive end, playing through J.J. [Jonquel Jones] and a concerted effort to play through J.J. and while still putting Courtney [Williams] and Alyssa Thomas in action really allowed us to have a really efficient and productive offensive night. And then withstood the run by Washington at the end of the third quarter and into the fourth quarter and got to the finish line," Miller said, "I don't think we were shy talking about we had to play through J.J. more. Was that going to be shots? But at least touches, and it started right from the beginning.
We got her shots in the first quarter, and then as we've talked, sometimes her shot attempts are misleading when she can't get on the offensive glass. Washington does as good a job of keeping her off the offensive glass as anyone in the league. Over the four games we played this year, she averaged barely -- not more than one, one point something, offensive rebound. Her high for the year against them was three offensive rebounds. So she went and created a lot of her own offense, even when we weren't playing through her, and that was just huge for us for second opportunities."
Mystics guard Krysti Tolliver said the Mystics will look to keep Jones off the boards, using a team effort.
"We know where their advantage is, that was points in the paint, and that was rebounding the basketball offensively, and so we clean up those two areas, this can be a very quick fix for us," she said, "It's a team effort. We've got to gain rebounds. Our bigs, they've got their hands full. So as guards, we have to get in the mix and help them out, and we did that for segments of the game. You knew that Jonquel was going to come and bounce back, and the way she makes a huge impact is on the offensive glass."
The score of 56-46 (102 points) at the half marked the third-highest combined first half scoring total in WNBA Finals History and the most since 2011. The Sun's 23 field goals in the first also half set a team record.
Other than Jones' performance, the other main storyline of game two was the injury sustained my Mystics forward and league MVP Elena Delle Donne. She was forced to leave the game after just three minutes in the first quarter due to back spasms and did not return.
"I mean, for us, we were locked in, so we just kept playing,honestly and truly. We were trying to win the game, so we weren't really focused on that, to be honest with you," Jones said.
Miller added: "Obviously you don't take an MVP out of a lineup for 37 minutes and aren't affected but what that champion Washington team was still able to do is a credit to Mike [Thibault], is a credit to their players. It was a fantastic game and we're really excited to be going home with a split. "
The Sun outscored the Mystics 23-10 after Delle Donne left and Jones scored seven points in the period as Connecticut led 29-17 after one.
Mystics head coach Mike Thibault said he remains cautiously optimistic that Della Donne will return.
"She's going to get an MRI on her back. It didn't look good, so we'll see. We'll see what the MRI says and treatment. The only good thing, I didn't look forward to having four days between games, but right now that looks like a benefit that we didn't have at the start of the series. We'll see. But I have no idea right now, and we won't have anything probably for a couple days until we see what the tests show and what treatment looks like. But it wasn't good. On the very first lay-up that she went up for, it grabbed on her, and she came down and just immediately said, 'Give me a sub,'" he said.
Della Donne had 22 points and 10 rebounds in a game one win. Thibault noted that her effort keeping Jones off the glass may be the most valuable asset the Mystics will miss if she is unable to play.
"I think it impacts it. Elena herself is one of the better defensive rebounders in the league," he said, "You're not going to hold Jonquel off the whole series but she got zero in that game. If you watch the tape, Elena was almost textbook in her blockouts on Jonquel."
The series will now shift to the Mohegan Sun Arena in Uncasville, Connecticut for game three, Sunday October 6 at 3:30 pm and game four if necessary, Tuesday October 8 at 8pm. Gave five, if necessary, will be back in Washington, DC on Thursday, October 10 at 8pm.