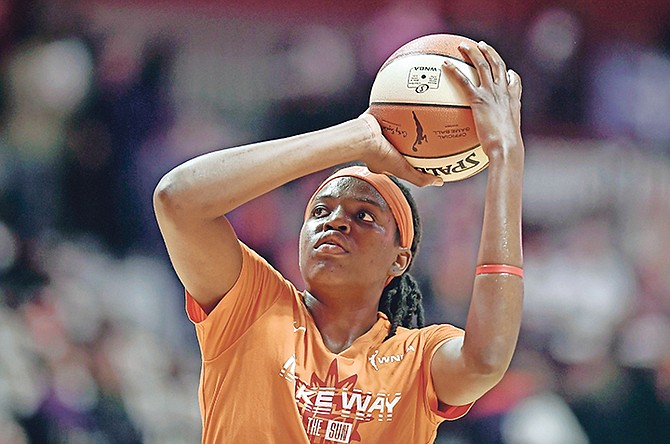 By RENALDO DORSETT
Tribune Sports Reporter
rdorsett@tribunemedia.net
THE Connecticut Sun were back at home for game three of the WNBA Finals but an elevated Washington Mystics team played inspired by the return of the league MVP to spoil the homecoming.
Jonquel Jones finished with nine points and nine rebounds in the Mystics' 94-81 win over the Sun yesterday at the Mohegan Sun Arena in Uncasville, Connecticut.
The Mystics tied a WNBA Finals record for most three pointers made in a game with 16 to take a 2-1 lead in the best-of-five series. Game four is set for 8pm Tuesday as the Sun face elimination.
Jones said the Mystics were intent on keeping her off the glass following her 32-point, 18 rebound performance in game two.
"I felt like it was just when the ball was up, I think it was they just didn't care if they were getting a rebound or not, they were making sure they were hitting me, keeping me off the offensive glass. I think that was the big difference for me this game. And I think it kind of held the team, too, so it hurt us that I wasn't able to get on the boards," she said.
"I think we just have to adjust a bunch of small things, just trying to win the battle so we can win the war. Simple things like switching a little bit earlier when they started to exploit us with the pick and roll between [Kristi] Toliver and [Emma] Meesseman. Just simple stuff like that...and we'll be ready and make those adjustments."
A quick turnaround before game four leaves the Sun little time to adjust on the league's top ranked offence all season long.
"Film, rehab, recovery, making sure that our bodies are right. I think that's the main thing. Just going back, not panicking. We're a team that's in this situation for a reason. We're not going to panic. We understand that. We're just as capable of getting hot and winning games as they are," Jones said.
"I think they were just hitting tough shots. I know for me a couple of times I went out on [Kristi] Toliver on a switch, and I felt like I was there in her space and she just hit tough shots."
The story of game three was the return of league MVP Elena Delle Donne to the Mystics' lineup after she was diagnosed with a herniated disk in her back after an MRI on Wednesday.
"Honestly, we were just trying to focus on us. She was hitting shots, so I guess once she's on the court she's on the court," Jones said.
Washington head coach Mike Thibault said he did not expect his star forward to play but she contributed 13 points and six rebounds in 26 minutes on the floor.
"I did not know anything until about 35 minutes before game time, 30 minutes when she told everybody she felt like she would give it a try.
"Basically the plan was let's see how it goes, sub for her every four, five minutes to try to get her a breather because I didn't think her wind was going to be there, get her back on the bike, or walk in the back hallway while she got her breath back," he said.
"I think any player, when they see that, they say, well, I can't complain about anything. I've got to play as hard as I can play. She's out there doing what she can do. I think the other thing is it gives them confidence because no matter whether she's limited and whether she can put the ball on the floor and go by anybody, she's such a good shooter.
"And I know given the circumstances she made two moves off the dribble and I'm sure it didn't feel great, but she wants to win a championship bad enough that we've got another 40-some hours to recover, 50-some hours. So we'll try to do the same process we've done the last couple of days and see what we feel like come Tuesday."
Jones shot just 3-8 from the field much like the loss in game one where she was just 5-8 and scored 12 points.
Mystics centre Latoya Saunders highlighted the impact Delle Donne's return had on the team.
"It meant the world because she's out here playing, her and Ariel playing through pain and injuries. The rest of us can pick them up and do our jobs and a little of theirs.
"I know they didn't play their usual defence on Elena because she's not as mobile today, but at the same time you still have to respect her," she said. "That just shows the person that she is."