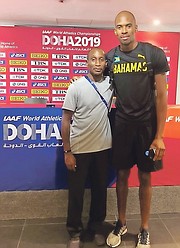 By BRENT STUBBS
Senior Sports Reporter
bstubbs@tribunemedia.net
DOHA, Qatar — When American Gary Evans started coaching quarter-miler Steven Gardiner three years ago, it was with the notion that the Murphy Town, Abaco native get on the podium at the Olympic Games and placing his name on the men's 400 metre world record.
Those two goals have not been achieved yet, but in their stop over for the International Amateur Athletic Federation's 17th World Championships, Gardiner proved that he's on the right track to accomplishing at least one of the feats in Tokyo, Japan in 2020.
"I want to thank the people of the Bahamas and the government for giving me the opportunity to get him to this spot that he is right now," Evans told The Tribune in Doha.
"He still has a long way to go. He's still learning. He's beginning to watch track meets that he's not in.
"If it's on TV, he's beginning to watch other athletes run so he can learn the sport. So I think when you learn the sport and not just being an athlete, the sky is the limit. I know a lot of people say Stevie didn't run a lot this year. That was on purpose. The game plan from the beginning of the year was for Stevie to peak here at these championships."
Now that he's gotten the world title under his belt in a new national record of 43.48 seconds for a sixth all-time ranking, Evans said a lot of people only see what they see on the inside, but there was so much that was put into getting Gardiner on top of the podium in Doha.
"We did a lot of competition in practice so that took away a lot of time for us travelling and competing in so many meets this year, besides the fact that he had an injury," said Evans, of their training site in Orlando, Florida.
"He's in a great training group. We even have young ladies who run in front of him and his goal is to catch them before they get to the finish line. So we did our meets in practice and that was why he's where he is right now."
In the three years that Evans has taken over Gardiner from his original coach Rev Anthony Wiliams in Moore's Island and George Cleare in New Providence via Georgia, Evans said Gardiner has just started to scratch the surface of his athletic future.
"He hasn't gotten there yet. My main goal is the world record," said Evans, of the distinction that currently belongs to South African Wayde van Niekerk in 43.03. "We still have more work to do and I do believe that if I can look at the people who can challenge for that world record, it would be everyone who was on the line in the final here, including (American Michael) Norman (the world leading performer).
"There's a good group of quarter-milers out there and each time they step on the line, you have respect each other. All these young guys in the 400m are fantastic. They are amazing. They have added a new time zone to the 400m."
Gardiner, 24, added the world title to the silver he secured two years ago in London, England when he lost out to Niekerk. Unfortunately, Niekerk was missing in action this year as the 2016 Olympic champion recovers from an injury he sustained laying soccer.
After taking a few weeks off from what has been a long season, Evans said he expects for Gardiner to report to training camp as early as November to start preparing for Tokyo.
"You don't just get lazy and think that you are on top of the world," Evans said. "People are coming. He will take his four weeks off and then it's back to work to get ready for Tokyo."
In his quest for the Olympic title, Evans said Gardiner will also pursue the men's national 800m record of 1:49.54 that was established by Chris 'Fireman' Brown on August 17, 1997 at the Central American and Caribbean Games in Maracaibo, Venezuela.
If he achieves that mark at a University of Central Florida meet in late March or early April, Gardiner will have his name inked on three national records. In addition to lowering his time in the 400m with his victory, Gardiner also holds the 200m at 19.75 that he achieved in Coral Gables, Florida on April l7, 2008.
"We just want to see how it goes. We're not going to prepare for it, but we will run the 800m next year," Evans said. "It's good but at the same time, people have to realise that this kid did 19.75 in the 200. So next year, he has to go faster in the 200.
"But we respect Noah Lyles. He's the king right now, so we are going to be respectful and stay in our lane. So we will do the 800 to see if I can get him a little stronger for the 400m. We know that he has the speed for the 200m, but we want to work on his endurance a little more."
In order to break the world record, Evans said Gardiner will need to have a little more to close it out in the final 100m during the stretch. But for those who are wondering, Evans said there are no plans absolutely for Gardiner to attempt the 200/400m double as Miller-Uibo is hoping that she can try again.
"Even though we won the world title, the next goal is to win the Olympic gold medal," Evans said.
"I can't chance two gold medals for zero gold medal. So our main focus next year is the 400m. You have 9-10 guys that are amazing and they are going to make Stevie earn it if he gets it again.
"So we are just going to concentrate on the 400m. Track and field is an amazing sport and down to the mile to the marathon, you have some great athletes who you can look out for."
As for Gardiner's feat on Friday, Evans said it's all because he listened.
"He ran the three rounds together just the way we put it together at Nando's Restaurant. "We will finish eating and then we will sit around and talk about the game plan. He did it like a blueprint. We planned this out perfectly. He dropped the hammer and followed the plan to the tee."
Once projected to be a social worker turned a small high school coach, who couldn't beat his wife, Stephanie McCray-Evans, running their speciality in the 400m, Evans said he's blessed to have produced a world champion.
He worked under Dennis Shiver, Mike Holloway, Brook Johnson and (Shaunae Miller-Uibo's coach) Lance Brauman, who all gave him an opportunity to excel on the sidelines. He started with youth track in Melbourne, Florida at Stone Junior Middle High School.
He also coached American 200/400m runner Xavier Carter since the age of 12, along with American quarter-miler Jessica Beard, and Tamari Davis, one of the talented young sprinters on the horizon, and Jamaican quarter-miler Novlene Williams-Mills.
Gardiner, however, has been the apple of Evans' eyes as a coach and he continues to exalt the Bahamian people in allowing him to groom and nature the son of the soil.
"To all the people in the Bahamas, we love you. We shed our tears, we prayed and we're hoping the best for you," he said. "We know that just like other places, you will rebuild and be stronger. We're just happy to bring you this joy through your healing process."
The gift of a world champion wrapped under the name of Steven Gardiner from Abaco.