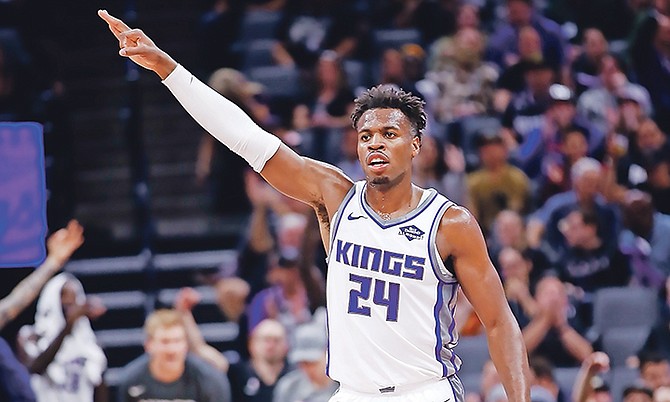 By RENALDO DORSETT
Tribune Sports Reporter
rdorsett@tribunemedia.net
WITH less than a week left for Buddy Hield and the Sacramento Kings to reach an agreement on an extension of his contract, Hield has been adamant about his desire to remain with the organisation.
"We need to get that done. I want to get that done, for sure. If it doesn't get done, things could go the other way. This is where I want to be, so it would be good for me to be here in Sacramento," Hield told the Sacramento Bee.
"If I'm their guy, I think they should make it happen already. I want to build a future here. I want to be here, but we have to see something. Something's got to come to the table. We have [time] to see what that brings, but I want to be here."
Hield is set to enter the final year of his rookie contract (four-year, $15.9-million) and is eligible for a rookie scale contract extension (up to $158.1 million over five years).
The deadline for both sides to reach an agreement on the extension is October 21. The 2019-20 season tips off on October 22. Should they fail to agree on the extension Hield could become a restricted free agent next summer if the Kings extend the $6.48 million offer.
"As a player, you want to have that trust that the franchise has your back and we're just waiting for them to make a move and come to an agreement. They're talking, but nothing is moving yet. Nothing has moved. I'm ready to make things happen, man. I want to make Sacramento my home. I'm ready to get this done," Hield said.
"I want to be here and if it doesn't happen, then things can go the other way."
In his third season, Hield averaged 20.7 points on 46 per cent from the floor, 43 per cent shooting from three-point range and 88 per cent shooting from the free throw line. He also averaged 5.1 rebounds and 2.5 assists in just over 32 minutes per game.
Hield has now made more three-point field goals than any other player in NBA history through their first three seasons in the league with 602.
His season total of 278 three-pointers ranks No.7 all-time for a single season and moved him ahead of Klay Thompson of the Golden State Warriors with 276 in 2016.
Hield also set the Kings' single-season three-point field goals record this season when he surpassed Peja Stojakovic's mark of 240.
During his season of milestones, Hield also made his debut in the MTN Dew Three Point Shootout at NBA All-Star Weekend.
"I know what I'm worth," Hield said. "I know what I bring to the table. I know what my value is. Not many guys can shoot the ball like me in the league. I make other guys better by just being on the court because they can't leave me, and if they leave me it's 45 per cent my shot is going in, so I'm sure other teams would like that too."