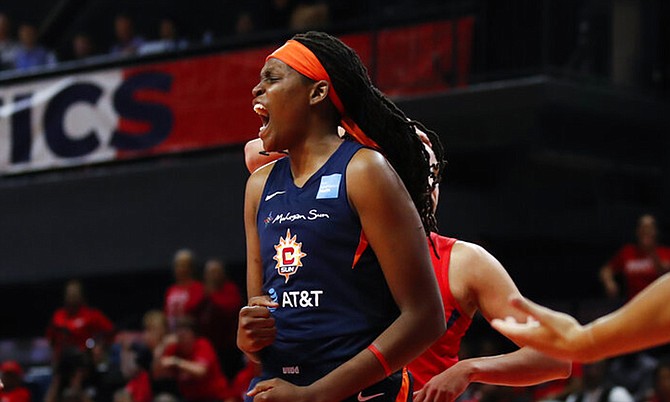 By RENALDO DORSETT
Tribune Sports Reporter
rdorsett@tribunemedia.net
JONQUEL Jones and the Connecticut Sun fell one game short in their historic run toward a WNBA Championship, but the fourth year forward has established herself as one of the premier players in the league with her standout season.
Jones averaged 19.2 points and 11 rebounds per game in the series and posted double doubles in both wins for the Sun, but ultimately lost in the fifth and deciding game on the road to the Washington Mystics.
"I think any time you play in a championship, you learn something about yourself. I think I've been able to take it to another level, but it was just -- you know, it was winner-take-all, so I just wanted to go as hard as I could. Unfortunately, it didn't go our way," Jones said. "They were aggressive. They were doing the things that were working. Yeah, I think that was the difference, and we weren't able to score the ball."
Despite the conclusion to the season, she said the team has now staked its claim as a WNBA title contender after consecutive seasons of opening round losses.
"I feel like we've grown and we've matured as a team where we're completely different now. We know how to win," Jones said. "I think from the beginning of next season, we'll be determined to get right back here."
In the offseason, Jones plans to rejoin UMMC Ekaterinburg of the Russian Premier League. Last season, the club captured its second consecutive Euroleague title. She appeared in eight games and averaged 19.6 points and 7.6 rebounds per game.
It was a season of accolades for the Sun star and Grand Bahama native.
Jones led the league in rebounds with 9.7 boards and blocked shots at a career high 2.0 per game. She also finished fourth in defensive rebounds with 6.4 per game.
This season, Jones grabbed 10 or more rebounds 16 times, including a season high 22 rebounds on May 31. She finished the regular season with starts in all 34 appearances averaged 14.6 points and posted career highs in steals (1.5 per game) and minutes played (28.8 per game). She also won her second rebounding title in four seasons.
Jones was named to the All-WNBA Second Team, the WNBA All-Defensive Team for the first time, finished third in Defensive Player of the Year voting, was a WNBA All-Star and was named Eastern Conference Player of the Week four times.
Sun head coach Curt Miller said Jones is a legitimate WNBA superstar and should be viewed as such by the national media.
"Well, first off, we all know she's a superstar. She's one of the premier rebounding players in the world. The versatility is only going to continue to get better. She can score the ball in the outside. She can score with her back to the basket, and is only getting better and better that way. She's an unselfish, quiet superstar that just has a huge game."
Miller added that Jones' exploits this season should be given special notoriety with her dedication to Hurricane Dorian relief while excelling on the court.
"Amazing. Obviously her home country of the Bahamas means so much to her. She's an icon in the Bahamas. For her to take on -- her and Buddy [Hield] -- taking on that leadership role to raise funds and raise an opportunity to provide relief to so many says a lot about her, and knowing that she was doing that in the midst of such a difficult schedule that we all undertake in the WNBA, she just -- that's the kind of person she is," Miller said.
"She's just truly remarkable when you get to know her, has this unbelievable personality, laid-back but can really turn that switch when she's on the court and be a beast around the rim."
Connecticut finished 23-11 in the regular season and was ranked No.2 in the playoff bracket, second behind the Mystics who finished 23-8. The Mystics won game one 95-86 when Jones finished with just 12 points and six rebounds. The Sun rebounded in game two behind Jones' historic 32 points and 18 rebounds in a 99-87 win. The series returned to Connecticut for game three and the Mystics won 94-81. Jones finished with nine points and nine rebounds. In a 90-86 game four win for the Sun, Jones finished with 18 points and 13 rebounds.
In the finale, she finished with 25 points and nine rebounds in the 89-78 loss.
"Proud of that locker room. You sit in that locker room when the team had started out with a mission and a bold tagline front office campaign that we were going to burn it down and take the next step as an organisation and as a team. From the moment training camp started we never shied from that and handled the pressure, and for a coach like myself that's always prided the teams that I've always coached on never too high and never too low they fought through those moments the entire season and put themselves in an unbelievable position to win their first championship.
"I think when the sting goes away, if we would tell them that we'd get to check it up with 10 minutes to go with a two-point lead in Game 5, a winner-take-all game, I think we would play that 10 minutes over and over and over again," Miller said. "They were not considered megastars. Well, that locker room is filled with a bunch of megastars, and they proved that and everyone is going to know who they are for the rest of their careers. So I'm really excited. I think the energy -- the fan base is reenergised. We took the next step after a couple disappointing playoffs, and we all know it's not an easy market always. We're trying to fight for the small market franchise in pro sports, and so proud of our fan base and so proud of where the organisation and franchise is again."