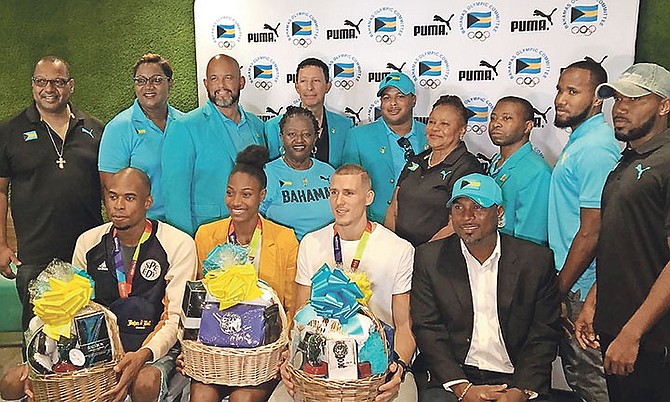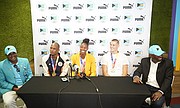 THE Bahamas Olympic Committee and the Bahamas Association of Athletic Associations held a joint welcome home celebration for Steven Gardiner and Shaunae Miller-Uibo on National Heroes' Day for their medal winning performances at the 17th IAAF World Championships.
Gardiner, 24, claimed the gold in the men's 400 metres at the championships in Doha, Qatar, in a national record breaking performance, while Miller-Uibo, 25, secured the silver in the women's lone-lap race in a national and NACAC Area record.
The duo returned home yesterday for the celebration that was held at the Fusion Superplex Center. Miller-Uibo was joined by her husband, Maicel Uibo, who captured a silver in the men's decathlon for Estonia.
Also in attendance were twin brothers Latario and Lathone Collie-Minns, who also competed at the championships.
Seated in front from left to right are Gardiner, Miller-Uibo, Miller and BAAA president Drumeco Archer.
Standing are members of the BOC and BAAA executive teams along with the Collie-Minns twins at right.
The BOC and the BAAA have a series of events planned for the athletes as a part of their celebrations this week. They are expected to attend a number of schools and also tour a few islands, including Gardiner's native Abaco, which was devastated by Hurricane Dorian, along with Grand Bahama.