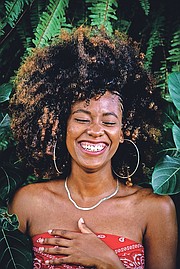 By CARA HUNT
Tribune Features Writer
cbrennen@tribunemedia.net
The natural hair journey can be both rewarding and stressful.
It can be rewarding for those who want to embrace their ethnicity while avoiding harsh chemicals and heat on their hair. But it can also be a bit of a challenge figuring out the best way to style and maintain your hair.
Add to that the stigma held by some that natural hair is just untidy and unprofessional. This can also add to the frustration experienced by "naturalistas" or those considering going natural.
The CurlyCru Fest, organised by TRAV Creative, is a special event that will be held on Saturday at the Nassau Night Market from 12noon to midnight, designed to help those on the long natural hair journey.
Travis Sweeting, founder of TRAV Creative, told Tribune Woman he has first-hand experience of the discrimination that comes with embracing your natural hair.
"I have been discriminated against, told that growing out my hair would keep me back professionally. Our hair is a big part of who we are, and as a predominately black nation we need to be less discriminatory about what grows on our head. I mean it is almost 2020 and California had to actually pass a law stopping people from policing how others wear their hair," he said.
Travis was referring to the fact first that earlier this year California become the first state in the US to ban discrimination based on natural hairstyles.
The state's governor, Gavin Newsom, signed the Crown Act into law, making it illegal to enforce dress code or grooming policies against hairstyles such as afros, braids, twists, and locks.
Democratic Senator Holly Mitchell, who introduced the bill earlier this year, said the law is about "inclusion, pride and choice."
"This law protects the right of black Californians to choose to wear their hair in its natural form, without pressure to conform to Eurocentric norms," Senator Mitchell said. "I am so excited to see the culture change that will ensue from the law."
Travis explained that the festival will feature stylists who specialise in natural hair to help people determine their type hair and the best products to use. He said it is often a lack of knowledge that leads to challenges in dealing with natural hair.
"A lot of women may not know if their hair is 4a or 4c, for example, and so they are unsure which products they should actually be using. At this event they can talk to experts who can help them figure out the best way to get the look they want, teach them about protective styles and which products they should be using and not using. For example, you should stay away from products which contain sulphates," he said.
Other highlights of the festival will include a "kinky" paint and sip, food trucks, and music and entertainment, along with specialty drinks.
Another important purpose of this event is to encourage natural woman to be empowered by their looks and find their beauty within.
Travis added that going natural is a choice that everyone is entitled to make, but said that many do not it just because they subscribe to the old-fashioned standards of European beauty – something the festival hopes to challenge.
CurlyCru Fest is part of an ongoing social media campaign for which TRAV Creative has partnered with The Kinky Project to encourage all to respect natural hair.