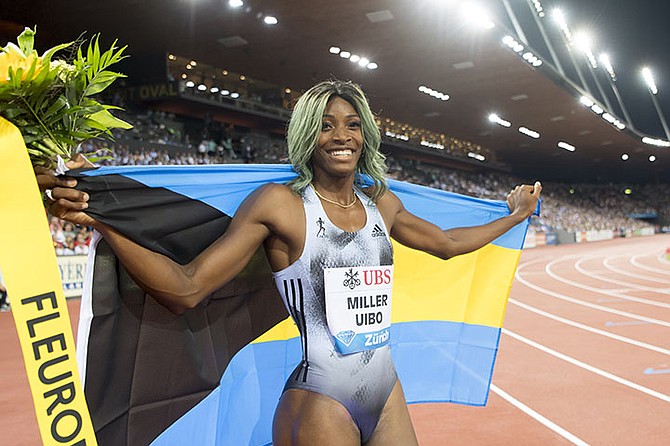 By BRENT STUBBS
Senior Sports Reporter
bstubbs@tribunemedia.net
Heading into the September 16th deadline for athletes and teams to be confirmed for the International Amateur Athletic Federation's World Championships, Shaunae Miller-Uibo is currently sitting in fourth place overall in the women's world ranking.
The world rankings evaluate athletes competing in a single discipline and rank the world's athletes in that specific discipline. The overall rankings compare athletes across all disciplines to rank all the male and female athletes in the world.
Miller-Uibo, the 200/400 metre national record holder, is currently sitting in fourth place overall in the women's points standings with 1,423 points. She's only listed in the 200m and not in the 400m.
Sifan Hassan, the Netherlands' 1,500/5,000m specialist, tops the list of 100m competitors with 1,442 points.
• Here's a list of the Bahamian competitors in the various disciplines:
Women's 100m
Tynia Gaither, from five events she competed in this year, is tied with Great Britain's Daryll Neita and American Tori Bowie with 1,201 points.
Great Britain's Dina Asher-Smith sits on top of the standings with 1,375 points.
Women's 200m
Shaunae Miller-Uibo, still unbeaten in four events this year, is second with 1,405 points with Tynia Gaither 16th with 1,240 and Anthonique Strachan 29th with 1,200.
Women's 400m
Surprisingly, Shaunae Miller-Uibo is not listed in the top spot.
Salwa Eid Naser of Bahrain tops the list with 1,410.
Women's 100m hurdles
National champion Pedrya Seymour, who made the final in all of her five events she competed in this year, is 15th with 1,272, while Devynne Charlton is 67th with 1,170 points after she competed in four events this year.
Jamaican Danielle Williams leads the list with 1,402 points.
Women's 400m hurdles
Tamara Myers, competing in five events this year, is ranked 40th with 1,138. Yulimar Rojas of Venezuela is the top-ranked competitor.
Men's 100m
Samson Colebrook, who qualified for the World Championships with an impressive time of 10.01 seconds, is tied for 93 with Mouhamadou Fall of France and Zhouzheng Xu from China with 1,158 points each.
American Justin Gatlin heads the list with 1,386 points.
Men's 200m
Samson Colebrook, who has shut down his season and returned to college at Purdue University, is in a three-way tie for 72nd spot with American Chris Jefferson and Jamaican Karayme Bartley, all with 1153 points.
American Noah Lyles heads the list with 1396 points.
Men's 400m
National record holder Steven Gardiner, unbeaten in five races this year, is sitting in third place with 1310 points and Alonzo Russell, who qualified with a second-place finish at the nationals behind Gardiner, is 44th with 1177 points.
American Michael Norman heads the list with 1343 points.
Men's 400m hurdles
National record holder Jeffery Gibson, having competed in four races this year, is listed at number 27 with 1212 points.
Karsten Warholm of Norway is leading the list with 1464 points.
Men's high jump
Donald Thomas, the 2007 world champion with just three events under his belt this year, is listed at No.16 with 1229 points. Jamal Wilson is five spots behind in 21st with 1211 points. Trevor Barry, the national champion, is 56th with 1149 points.
Naoto Tobe of Japan tops the list with 1329 points.
Men's triple jump
Twin brother Latariko Collie-Minns is 39th with 1170 points. Kaiwan Culmer is 97th with 1101 points.
Reigning world and Olympic champion Christian Taylor from the United States heads the list with 1392 points.
The final list for those athletes who will qualify for the World Championships, scheduled for September 27 to October 6 in Doha, Qatar, will be announced September 16. The Bahamas has 10 athletes already qualified and two more are hoping to get an invite from the IAAF to compete.
The Bahamas, however, doesn't have any teams listed in the top 16 in the men and women 4 x 100 and 4 x 400m relays, so it is a wait and see the process through as well as to whether any of them would be invited to compete.