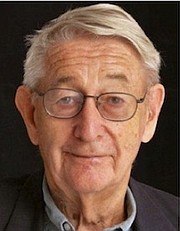 In the Tornado Alley states of the USA, tornadoes, large and small, are too frequent to be named. Only the worst are identified for the official records — like Joplin in 2011.
It was a warm and muggy afternoon about 5pm on Sunday, May 22, 2011, when the civil defence warning sirens were first heard in Joplin, Missouri, population 50,000. With typically brief notice, at 5.34pm the first blast of a tornado touched down on the western edge of town. For the next 40 minutes, the tornado spread its narrow path of devastation six miles eastward, rising in force to EF-5, the highest rating given by the National Weather Service, promising winds of over 200mph, that probably rose to gusts of 260mph, what a local meteorologist called "a fist coming out of the sky".
By 6.30pm the wind had died, leaving a desolate and rain-soaked Joplin to dig out and start assessing the catastrophe. The death toll was soon set at 161, most of the victims crushed in their own homes, with others caught in stores, cars, or outside, including 21 in a destroyed nursing home, and nearly 1,000 were injured. About 7,500 houses were destroyed, plus high school, churches, and Walmart and Home Depot facilities, larger than anything in The Bahamas. A modern nine-story hospital was evacuated but lost five critical-care patients and was blown off its foundations, requiring demolition. Vehicles were thrown 300 feet from the parking lot and found mangled around trees.
Dorian's problem: island evacuation
Whether the present Dorian death toll of 50 will ever rise to match Joplin, the two afflicted Bahamian islands suffer recovery problems even tougher than in Missouri. All reinforcements of people or supplies must be brought in by sea or air, rather than by the unmatched American rail and highway systems. We have nothing to match FEMA (Federal Emergency Management Administration), which quickly installed 600 temporary housing units in Joplin, finally vacated two years later.
Absent in Joplin, we face the agonising humanitarian question of handling the indigent foreigners who had settled in The Mudd and Pigeon Peas. Certainly uninsured, these Haitians won't be rebuilding any of their destroyed shanties. Virtually undocumented, their names and numbers will bollix any detailed rehabilitation plan. Are they 2,000 or 10,000, among Abaco's official census of 17,000 people? Who knows?
The answer can only be general relocation, with minimal paperwork. Obviously to New Providence, and only Government can pay the transport cost, preferably by chartering ferries or barges. Once they reach Nassau, some of the refugees can be lodged with Haitian relatives, but most will have to shift for themselves, with little work available. Government may have to provide both housing and employment, or simply charity payments. Return to Haiti is the ultimate solution, but whether the Port-au-Prince regime can, or wants to, share the expense with our Government is pretty doubtful. For years we may see a budget item of several million labeled "Haitian Repatriation", a direct drain on our Treasury.
Of course, native Bahamians too are suffering physical or mental trauma from Dorian. But most of them have solid family connections to give succour, and at the least the hope of a job when reconstruction begins. Homeless Haitians will remain our most pressing social burden. Our authorities must make sure that never again will such a mass of needy foreigners be allowed to accumulate, in The Mudd or anywhere else.
We can be more hopeful about the task of rebuilding, long-term though it may be. Our basic resource is people, and Bahamians show no lack of energy and ingenuity when faced with a crisis. An amazing array of foreign contributors is already pushing money and goods at us, whether from organised charities, development banks or lending agencies, or commercial companies doing business here There will certainly be a temporary drop in current revenues from tourism and services, but any decline in our reserves will be more than met from these inflows. The Central Bank has already announced technical measures to help impacted borrowers.
The alarming figure of an $8.1 billion hit to our economy should be taken with a large grain of salt. How was it calculated and over what period? Any capital loss from the massive destruction of property will be largely balanced by the receipt of insurance proceeds on all substantial buildings and much of our infrastructure, which our insurers and their foreign co-insurers are fully capable of providing. Much of the new construction will be probably of higher quality than before and assessed accordingly.
How Joplin recovered, over seven years
We can turn to the extensive writing about the Joplin tornado and its aftermath, enough for a book, to help us chart our future. Among scores of items, from 2011 right up until this year, we learn:
• Within three months, three billion cubic feet of rubble was cleared away to permit reconstruction, and no new victims or survivors were found.
• Churches throughout the US, led by the Amish, immediately contributed both cash and work crews, and AmericCorps provided 450 volunteer workers.
• The ASPCA contributed $100,000 for pet and animal treatment.
• On the first anniversary, the Joplin Town Council dedicated 161 trees in a central location as a memorial for the dead, noting the need for the City to recover "physically, emotionally, and spiritually".
• Within five years in 2016, over 1,600 new houses had been built and 550 businesses had reopened, with 4,500 -5,000 employees; Walmart was one of the first to reopen its major retail facility.
• The St John's Hospital had been rebuilt at a new location, and a first-time municipal library was in operation.
• In February, 2018, the Joplin Globe reported that PwC, the consulting firm hired by the City for coordination of Federal aid, called the Joplin recovery "one of the most successful" they had ever seen, and later that year ABC TV announced that the "city is thriving, just thriving, thanks to a solid rebuilding programme."
• The council was even willing to admit one mistake: in the first days after the tornado, it signed with a Texas real estate company for a redevelopment scheme that was never performed, leaving the city to sue for $1.5 million when the company folded.
The Joplin disaster did not leave every story a happy one. A Methodist minister still suffers from PTSD from his observing the shattered dead and counselling the wounded five years earlier. But the St Louis Post-Dispatch of January 2016 concluded that "Joplin rebounds strongly".
Facing the future
The Bahamas can never be certain another Dorian will not strike, or shift its track 5 degrees and hit Nassau. The Tornado Alley of the Midwestern states, with Joplin smack in its midst, lives under this threat every year. In a two-week period in May 2019, over 200 tornadoes touched down, with at least 40 rated EF-2 or higher. Thanks to improved early warning networks, fatalities were low but property damage amounted to billions across the region.
Business does not shut down nor population flee these states, home to so much American commerce, industry and agriculture, and neither will they do so across The Bahamas or the wider Caribbean. There are simply too many reasons to live in this vast zone of natural beauty and weather that smiles 95% of time and place. If indeed "global warming" is bringing an era of more violent weather, our task is simply to enforce building codes, replace slums with decent housing, improve drainage of lowlands, and encourage building on ridges or our limited amount of elevated land. We must recall that the most destructive hurricane of all battered the Florida Keys with 400 deaths back in 1935—but was not the predicted kiss of death for now booming Key West
NOTE: The present Mayor of Joplin, who survived the 2011 Tornado and led the recovery effort, just three months ago spoke about his experiences in Dayton, Ohio. I hope we can invite him to do the same in our country.