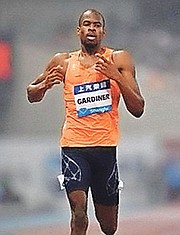 By BRENT STUBBS
Senior Sports Reporter
bstubbs@tribunemedia.net
After watching the destruction left behind by Hurricane Dorian on his homeland of Abaco, birthday boy Steven Gardiner was eager to get back on the track to refocus for the IAAF World Championships at the end of the month in Doha, Qatar.
In his first race since he competed at the Bahamas Association of Athletic Associations' Nationals in Grand Bahama where he repeated as national champion, Gardiner obliterated the field in taking the title in the one-lap race at the 10th Kamila Skolimowska Memorial in Chorzów, Poland, on Saturday.
His time of 44.14 seconds was his season's best, improving on the previous mark of 44.45 he posted in Hungary at the Gyulai István Memorial Hungarian GP, Bregyó Athletic Center, Székesfehérvár, on July 9. He won the nationals in 44.90, but that was not relevant to what he achieved over the weekend.
His time was also recorded as the third-fastest time in the world this year behind Americans Michael Norman (43.45) and Fred Kerley (43.64) as Gardiner celebrated his 24th birthday from Thursday in grand style.
"I felt good," Gardiner, the Bahamian double national record holder in the 200 and 400m, told The Tribune.
On the passing of Hurricane Dorian, Gardiner said he was devastated to learn that so many persons were affected, losing their lives, homes and properties. He noted that both his father and grandmother experienced some structure damages, but all of their lives have been spared.
"They went to Florida," he said. "They're all safe, so that is most important."
On his performances after the passing of Hurricane Dorian, Gardiner said he just wanted to run again to show that he was fit and ready for the World Championships, scheduled for September 27 to October 6.
"We know at this time, I would have been running a lot, but it's been a while since I raced," he pointed out. "I had to go out there and do something special. So I ran for the country and Abaco. I had to represent."
As he prepares to represent the country in Doha, Gardiner said he's not going to get caught up in the issue the BAAA is experiencing about trying to secure the necessary budget of $116,000 to send the 10-man team to the championships. "I'm not going to let that bother me. That's something they have to work out," he said. "I'm not going to get involved."
Gardiner said his goal is to get back on the podium as he improves on the silver medal he earned in the 400 metres at the last Worlds in London, England in 2017.
"I'm healthy and the run felt pretty good, even though it was about 50 degrees," he pointed out. "It was pretty cold out there, but I am looking forward to a good World Championships and to get back on the podium."
Running out of lane six in Poland, Gardiner used his lanky, 6-foot, 3-inch frame to propel himself in the lead on the back stretch.
As he ascended off the final curve, he accelerated to the finish line for an easy victory.
"That's something we (American coach Gary Evans) were working on in training for a while now," Gardiner lamented.
"I need to run the back stretch in a comfortable, but relaxed pace. We kept our composure and once we did that, we knew it was going to be a good race."
Now that he's back after he missed the opportunity to compete this year in the IAAF Diamond League Final, Gardiner said he and his close friend Shaunae Miller-Uibo are enthused about producing a 1-2 punch for the Bahamas in Doha.
"It's always good for us as two young athletes to go out there and do what we always do," he stressed.
"It's pretty good. I like it. Obviously we want to be on the podium. That is what we want to do for our country. That would be a perfect ending for our season."
Miller-Uibo, by the way, captured her third straight women's 200m IAAF Diamond League Final and her fourth overall with her double triumph in the 200/400m the first year, with a record-breaking performance of 21.74 seconds at the stadium Letzigrund in Zurich, Switzerland, a few weeks ago.